In this article, we not only do examine how to launch Facebook ad campaign on Facebook technically but also analyze how to apply this knowledge to creating acquisition and retention campaigns. First of all, let's examine Facebook Ads Manager.
What is Facebook Ads Manager
Ads Manager is a free Facebook tool which allows you to create and manage ads as well as measure results.
In Facebook Ads Manager, you can create, view and edit advertising campaigns, ad sets and ads. You can use Ads Manager on the desktop and on your mobile device via app. Please note that you can't use all advertising objectives and options during the creation of campaigns on mobile devices.
You can promote publications using the "Boost post" button, which is located under the publications on the business page, but in this case, you'll have limited opportunities for targeting. We recommend launching and managing advertising campaigns using an ad account in the desktop version.
Use these 3 ways to access Facebook Ads Manager:
Direct link www.facebook.com/ads/manager.
"Manage ads" button which can be found on the drop-down arrow in the upper-right corner of any Facebook page.
Facebook's Ads Manager mobile app. Available for IOS and Android.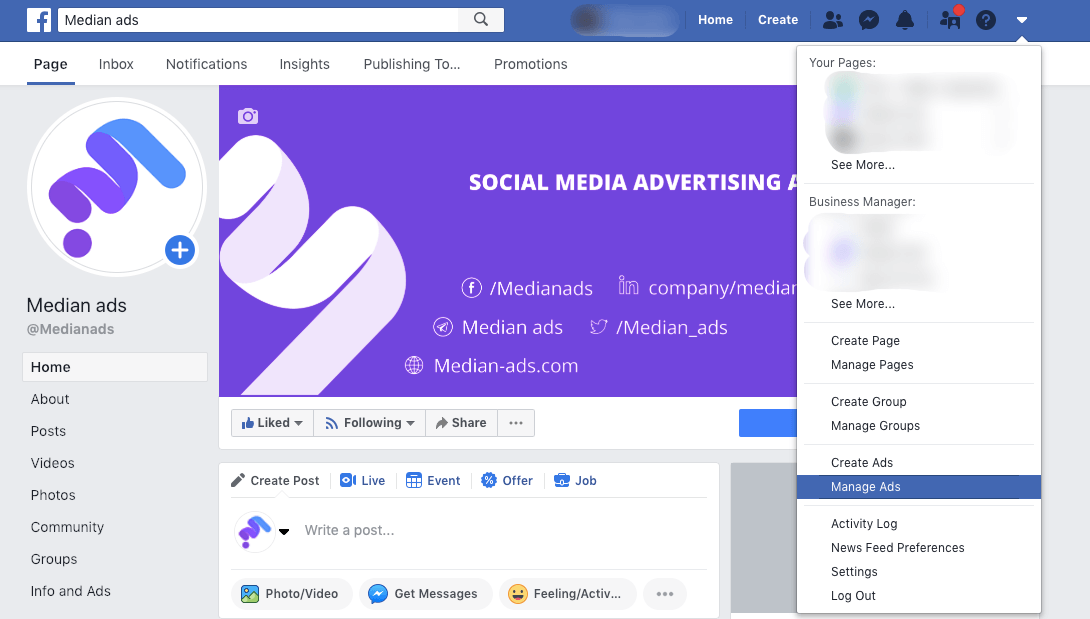 There is a possibility to launch ad campaigns from a personal account. Thus, you can create only one ad account and only one Facebook Pixel, accordingly. To manage all pixels, pages, applications and create more than one ad account, we recommend using Facebook Business Manager.
Facebook Business Manager is a tool that lets you use all Facebook assets in one place and securely manage other people's access to your account. In Business Manager, you can manage applications, pages, and ad accounts. You also have the opportunity to download product catalogs, create publications, add payment methods, and much more. To manage all projects effectively, you can create several Business Managers.
If you create an ad on Facebook for the first time, you also create an ad account in the meantime.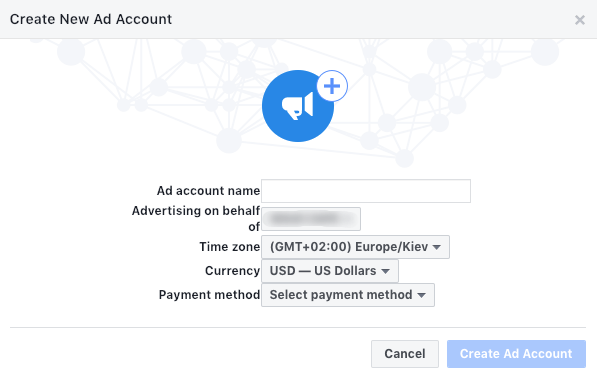 To create a new ad account, you need to specify its name, the company that will control it, time zone, method of payment, and currency.
Account currency is the currency used in the ad account for billing. Facebook indicates that it regularly adds new payment methods. Ukrainian hryvnia is not available yet. However, you can find Russian ruble, Euro and US dollar in the accepted currencies. You are able to change the currency you use for Facebook ads once per every 60 days if you don't have a current balance. Although, a new ad account will be created in this case. In some countries (for example, Brazil, Nigeria, and Venezuela), the country of the business account and chosen currency must match.
Having created an ad account in the Business Manager, you'll combine your campaigns, ads, and payment information in one place. You can also share it with other users so that they can manage your ads.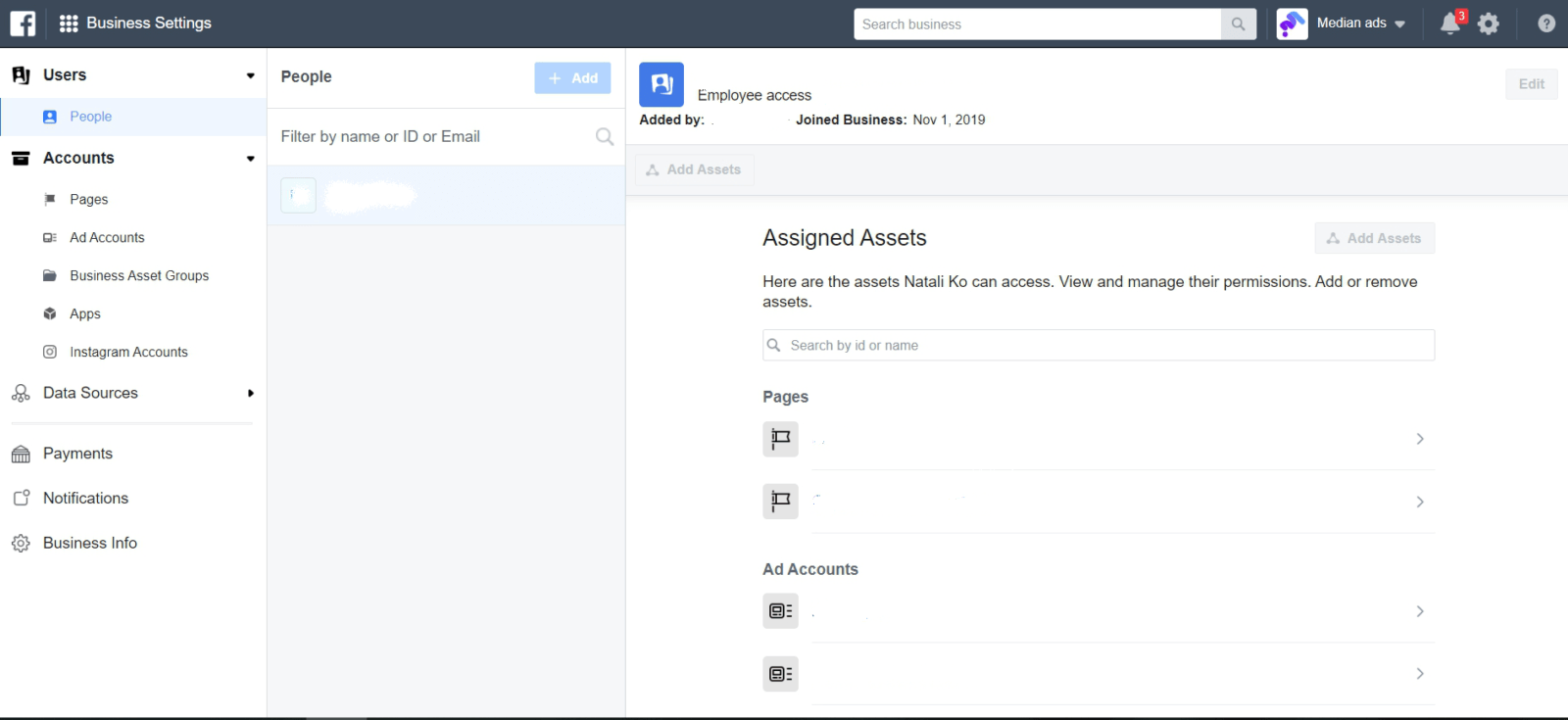 To prevent your account from being blocked by the Facebook, it's enough to follow the rules which you can find here.
Facebook Ads Manager's Overview
To help you better understand your Facebook Ads Manager account, let's examine it thoroughly.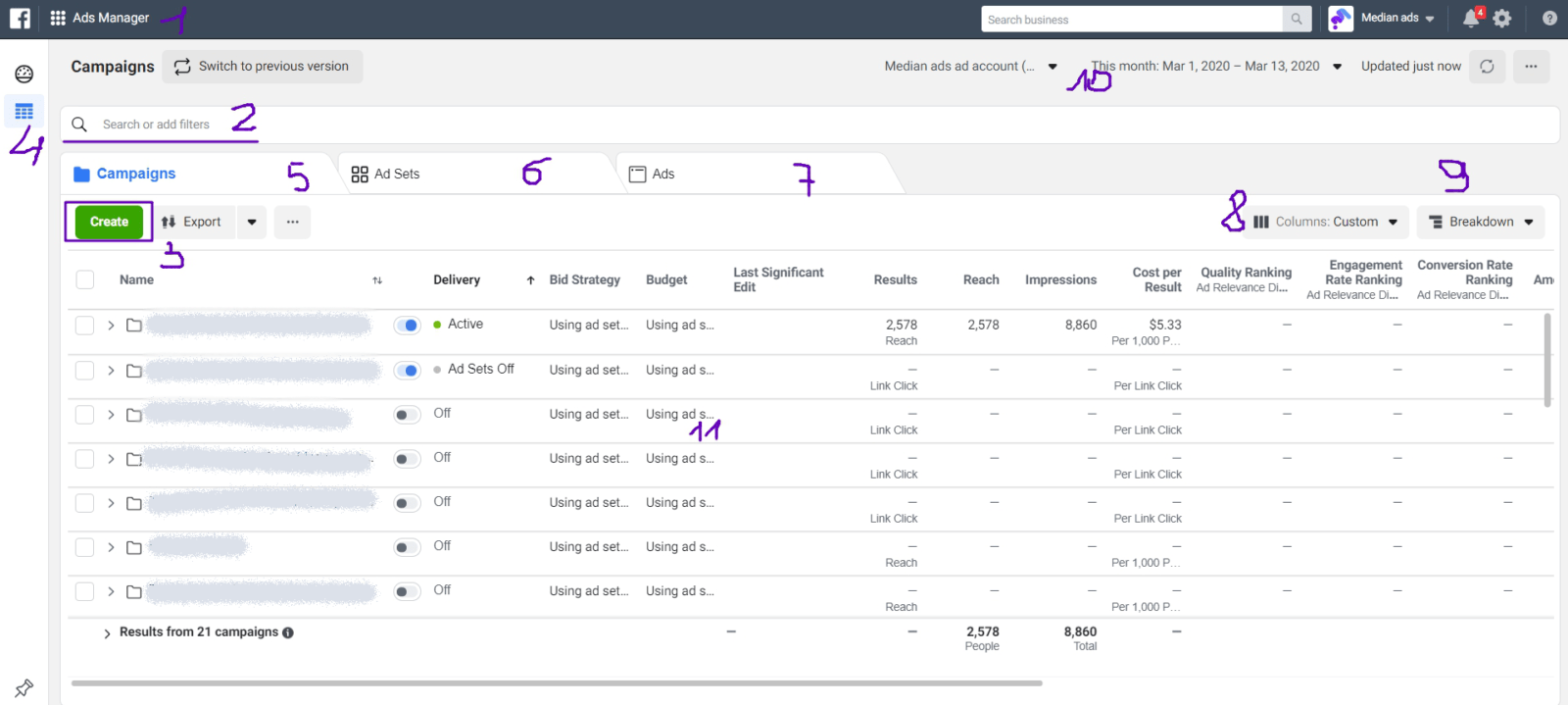 1. Main navigation menu
Here, you find such sections as Audiences, Analytics etc., customize reporting, set automatic rules, edit settings, and much more.
2. Search and filters
Search helps you find campaigns, sets, and ads based on specific conditions, such as delivery, impressions or reach. Filters help you find ads based on specific results. You can choose from preset filters, such as placement, names, objective or create a custom filter.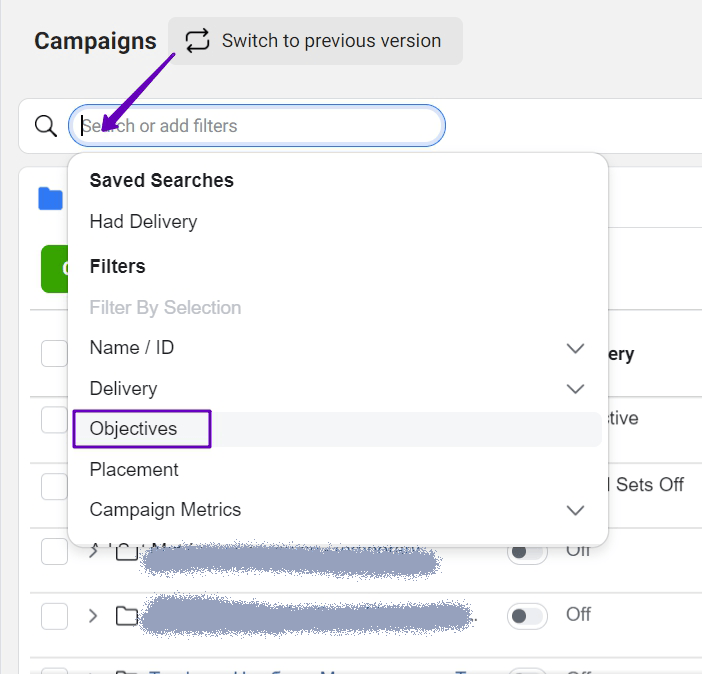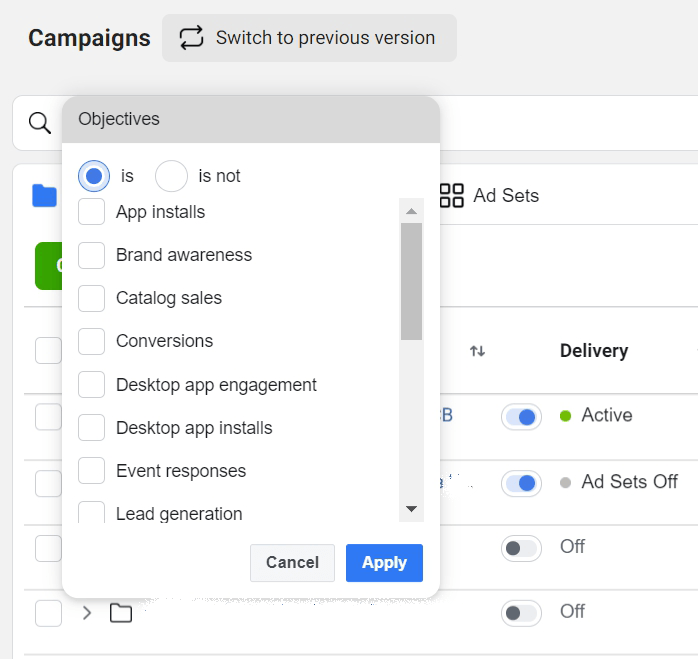 3. "Create" button for creating new ad campaigns
Having used this button, you'll begin the process of creating a new ad campaign which we will describe in details in the next section.
4. Account overview
Here, you can find a summary of activity for your ad account such as reach, total amount spent, a detailed breakdown of the amount you've spent on your ads over the past 7 days, and any spending limits you've set on the account etc.
5. Campaigns overview
In this tab, you can view and manage your campaigns:
duplicate and edit existing campaigns;
customize the columns;
breakdown your results etc.
6. Ad sets overview
Here, you can view and manage your ad sets for your campaigns:
create new sets;
edit existing ones;
view insights to see how your ad set is performing etc.
7. Ad overview
You can view and manage your ads from here.
8. Columns
You can choose preset columns with specific metrics or customize your columns on your own.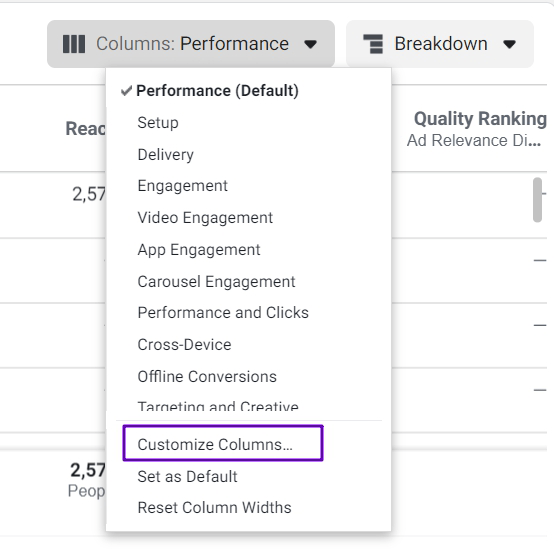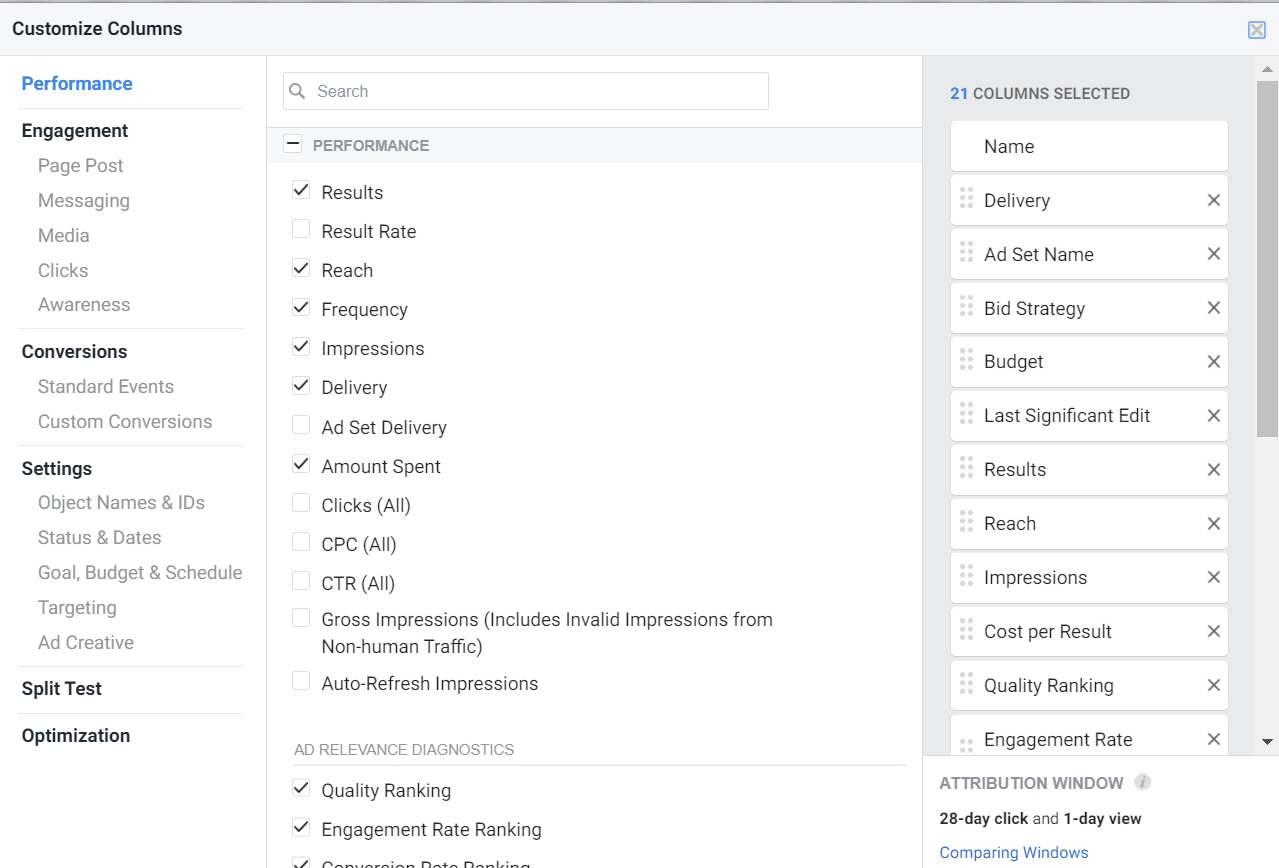 9. Breakdown
Here, you can check how your data looks using breakdowns like Age, Gender or Placement.
10. Date range
With this feature, you can set a specific date range to see your ad campaigns within particular period of time.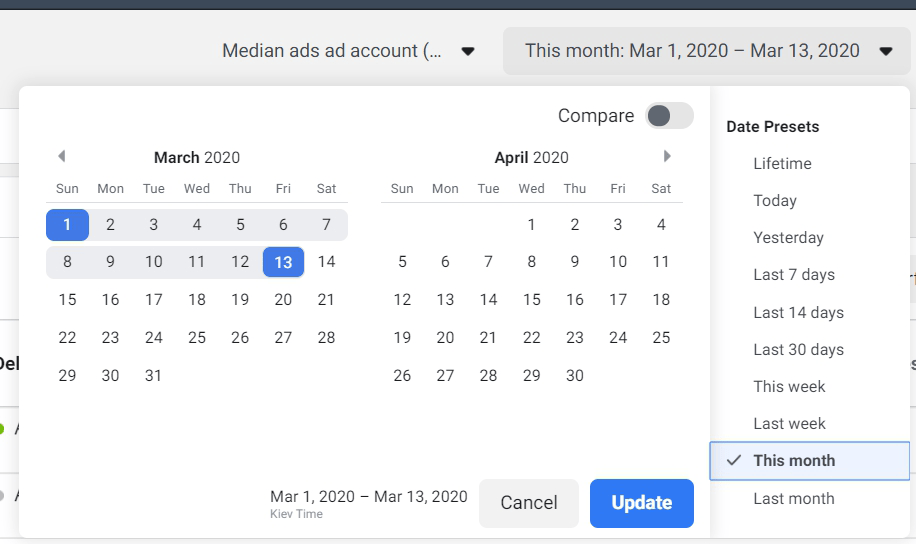 11. Campaign Results
Here, you can see the results of your active and inactive campaigns in accordance with the selected columns.
Reports
Create standard or custom reports, export performance data as Excel or CSV files, and share reports with users who work with your ad account. You can also filter campaigns you want to focus on. If you need to send these campaigns to a colleague or client, you can share a link.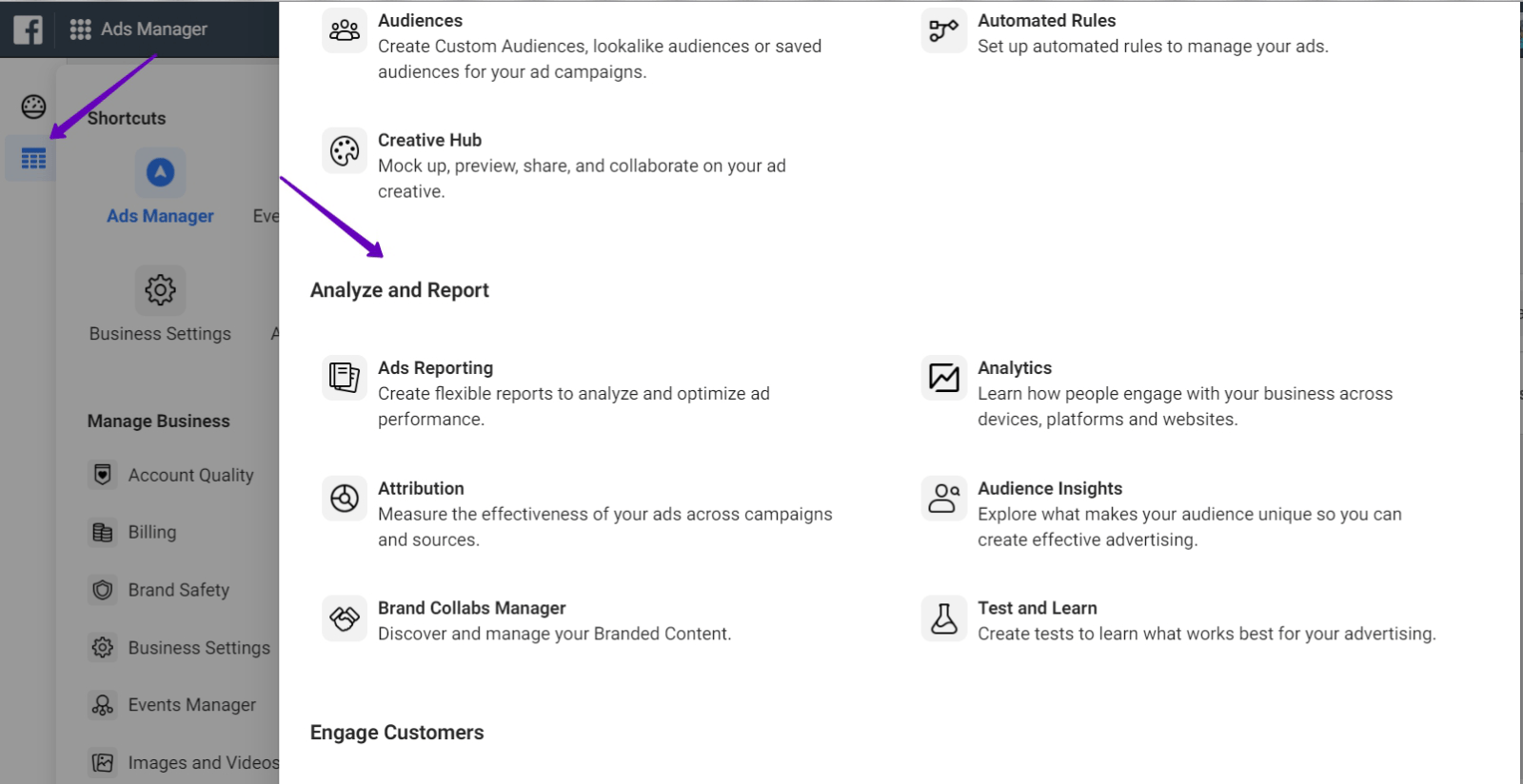 After having reviewed the basic principles of working with Facebook Ads Manager, it's time to learn how to create an ad campaign.
Creating Ad Campaigns
As we have mentioned above, to create a new ad, you have to click "Create Ad" button in Ads Manager.
Campaign
At the campaign level, you indicate the campaign's name, determine the budget, buying type, and select an objective.
Choose your objective
The first step is a choice of an objective. You have to select it according to your business objectives. Choosing the right objective will help you get the most effective results.
What types of objectives does Facebook offer?
Brand awareness
Reach
Traffic
Engagement
App installs
Video views
Lead generation
Messages
Conversions
Catalog sales
Store visits
The list of objectives may vary. If you have a new ad account or you rarely use its functionality, you may have fewer opportunities. If you use it actively, you'll probably be the first to receive all the updates.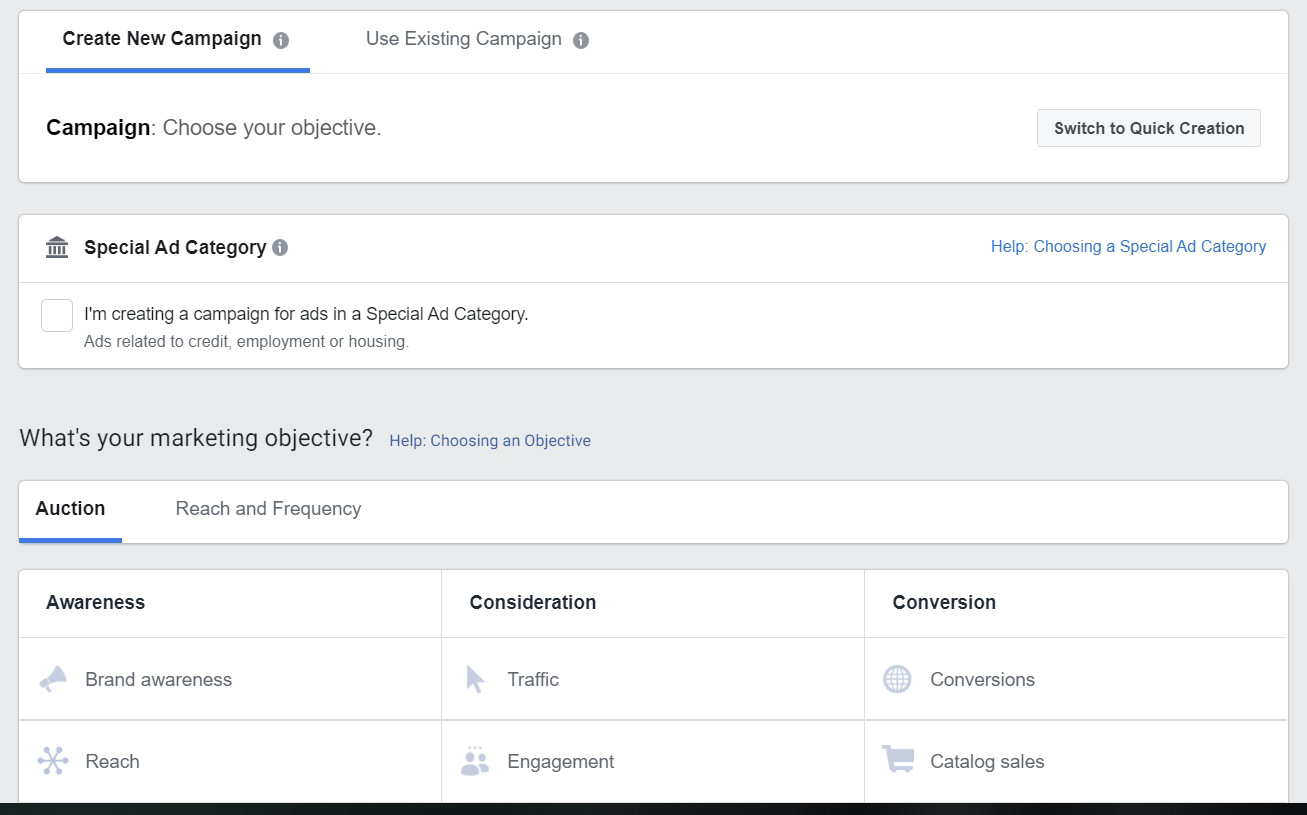 The selected objective is also your way of optimization. If you select the "Traffic" objective, the algorithm will optimize for those users who are more likely to click on the site. If you choose "App installs", the algorithm will optimize for those who are more likely to download the application.
Let's run a test. Imagine that you created a blog article and published it on your Facebook business page. You want to promote this publication to increase the reading of the article.
What advertising objective will you choose?
Engagement
Traffic
Conversions
If you choose "Engagement" objective, you will get interactions. The ad will be optimized for users who may like, share, leave a comment, and make any other actions. If 9 out of 10 interactions are "Like" mark, then you'll get a lot of likes of the article, but no traffic to the site.
If you want to get readers, then it's worth selecting the "Traffic" objective. In this case, the algorithm will be optimized for those users who click on the article.
For example, if you need more subscribers in a blog, then your objective should be "Conversion". It will optimize impressions for users who subscribe to your blog. To get this, you need to use Facebook Pixel. Read in our article how to set up it.
⇨ The objective should be chosen for optimization as well, but it's important to understand what exactly needs to be optimized.
Let's review another situation which is related objectives with the same final results.
For example, your task is to get leads. They can be assembled through objectives such as "Lead generation" and "Conversion". What to choose in this case? Let's simulate:
First of all, look at the cost per conversion:
↳ "Lead generation" objective — $1. "Conversion" objective — $3.
In this case, it's logical to choose "Lead generation".
Next, go to the analysis of the validity of the leads:
↳ "Lead generation" objective — 10%, the cost of valid lead is $10. "Conversion" objective  — 50%, the cost of valid lead is $6.
"Lead generation" loses in this case.
However, the analysis doesn't stop there if you control unit-economy and end-to-end analytics.
If you choose the objective "Lead Generation", the average check for valid leads may be higher, but CLV may be lower. If we measure the average check and get only one-time purchase, then the objective "Lead generation" may be more profitable. Anyway, you have to measure all results in monetary value. If you take into account the total amount of client's income when measuring results, then it's worthwhile to choose the "Conversion" objective.
⇨ The main point of your campaigns is profitability. Therefore, it's important to test objectives and analyze results according to different metrics.
Campaign budget selection
The budget is the amount of money you spend on advertising. It's also a tool to control price.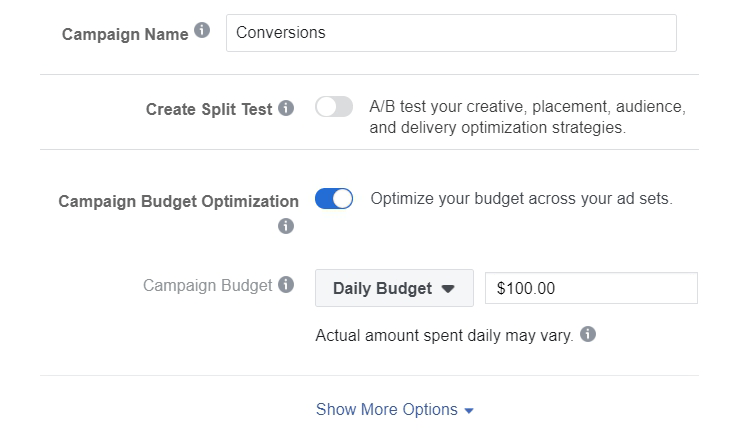 By setting a budget at the campaign level, the system spends it automatically on the best results among all the ad sets within the campaign.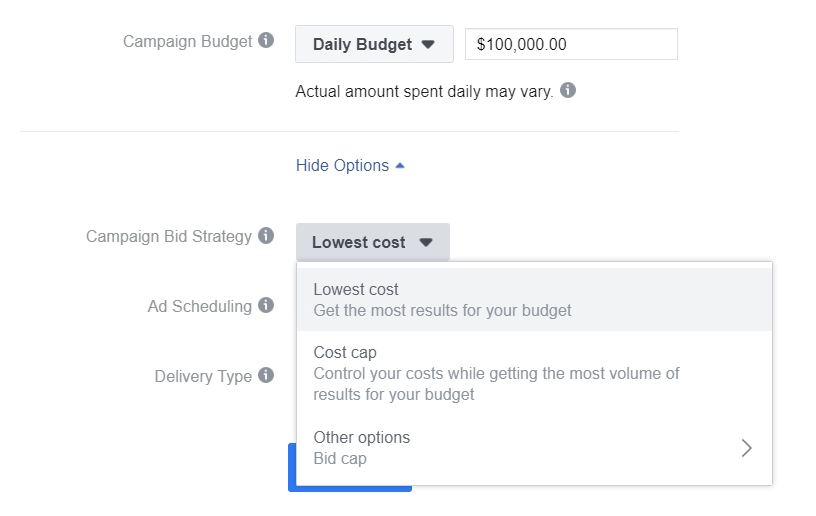 However, the best results for the system may not be the best ones for you. Imagine that you created several personas and separated them in different sets. Then, results in some sets started to be more expensive than in others sets. In this case, the system will spend the budget on the group with cheaper results. For example, having analysed the sets, you can see that CLV is much lower in cheaper sets. To regulate such cases, set the budget at the ad set level.
Ad set
For instance, choosing the "Conversion" objective at the campaign level, we proceed to create an ad set and select a name for it. Next, choose the place where you want to drive traffic:
a website;
an application;
Messenger;
WhatsApp.
After determining the required entry point, the system will ask for clarification. If you choose "Website", the system will ask you to select Pixel with events to track and optimize for conversion.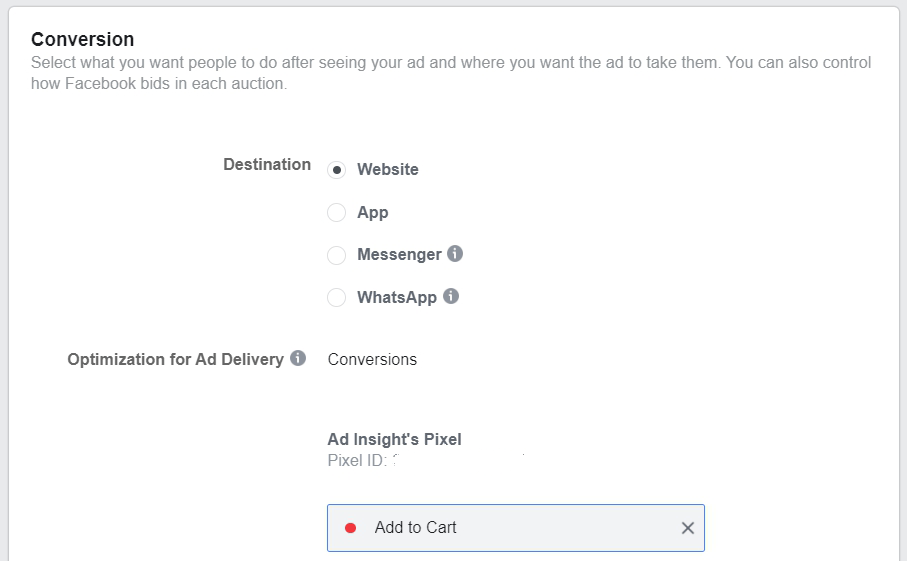 Then Facebook suggests creating dynamic creatives or offers.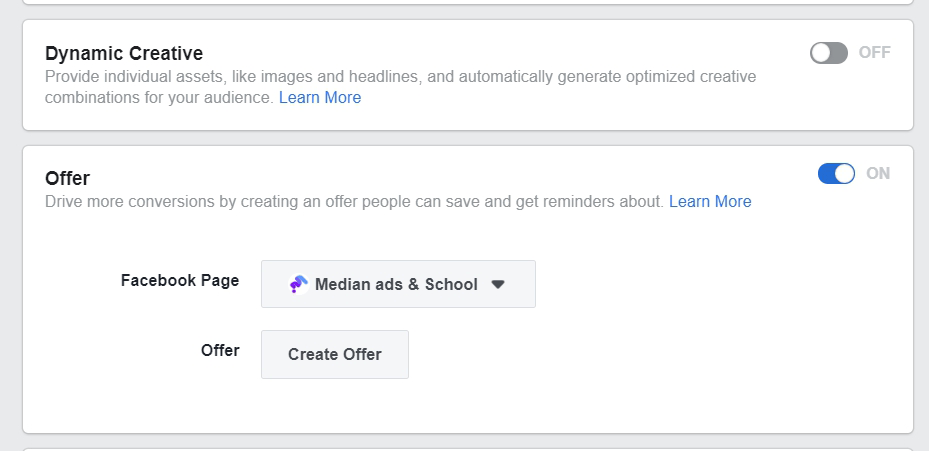 Dynamic Creatives
You need to upload images, headlines, and other creatives. After this, having selected several components (e.g., images, videos, descriptions, etc.) for a chosen audience, the system will create combinations by itself. You can read more about them here.
Offers
Offers are discounts that you offer Facebook users to encourage them to make a purchase on the website online or offline. When people see your offer, they not only can like it or leave a comment, but also save it. When someone saves an offer, it'll appear in their Offers bookmark. A person will be reminded about it on Facebook up to 3 times, depending on their personal notification preferences.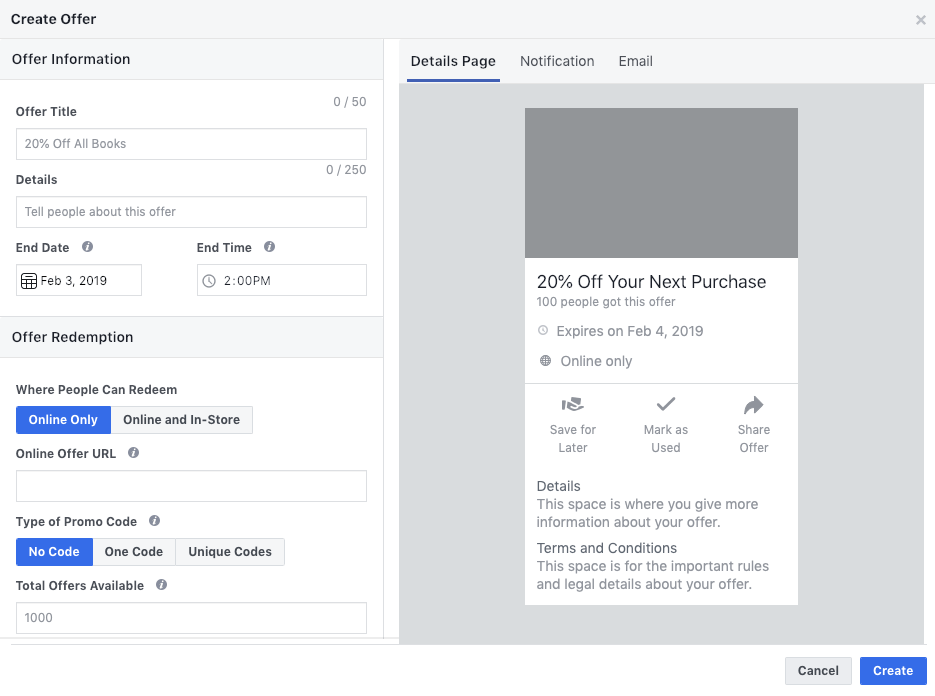 Budget & Schedule
Here, you determine how much you want to spend and set ad's schedule. There is an option to choose between daily and lifetime budget. If you choose "daily budget", your rate can be correlated within a week. If you select "lifetime budget", the rate can be correlated during the whole period. You can also set a deadline for your campaign to be turned off automatically.

Audience selection
Next, we have to choose the target audience. You can create a new audience or use the saved one.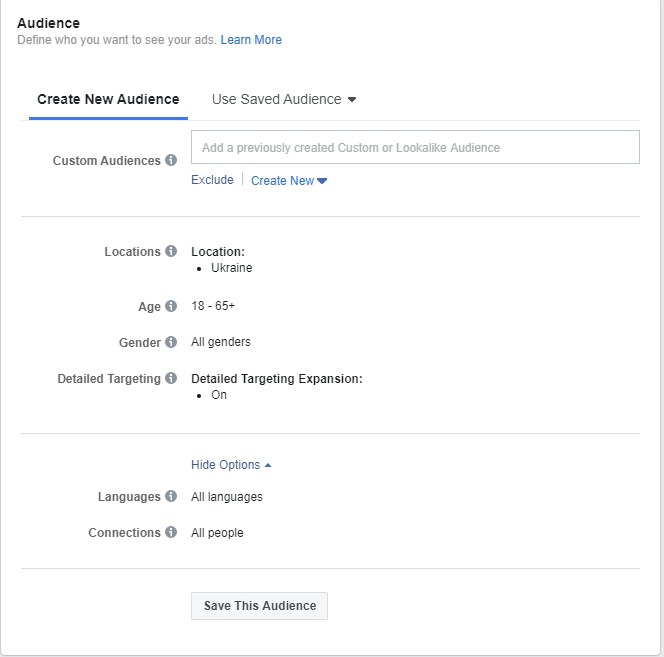 When you create a new audience, you can include or exclude specific retargeting audiences or look-a-like ones.
You can also specify a social demographic targeting:
Location
Age
Sex
Language
Detailed targeting. Here, you can select interests, demographic data, behaviors, and other parameters you need.

When you create multiple ad sets and use detailed targeting in them, there is a high chance for ad fatigue to happen. This problem can occur if you choose different parameters in targeting and don't use exceptions. For example, the same user can be in one interest group and in the group of people who visited the site. Read in our article "Ways to Prevent, Detect and Fight the Ad Fatigue" how to avoid it.
Connections
The "Connections" sub-section gives you an opportunity to target ads to people who are connected to your Page, app or event. You can include or exclude these connections.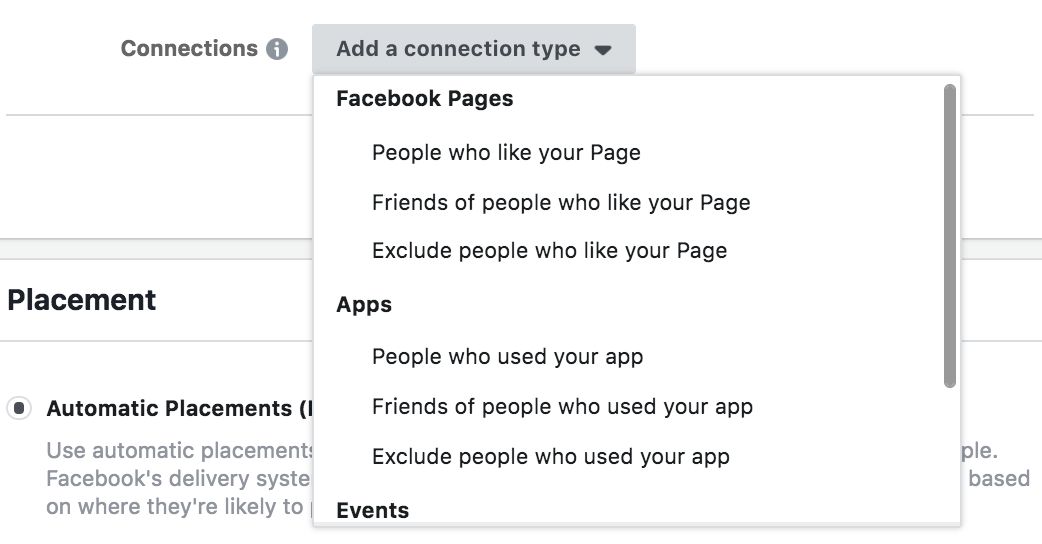 Placements
This sub-section contains 2 categories: device types and platforms.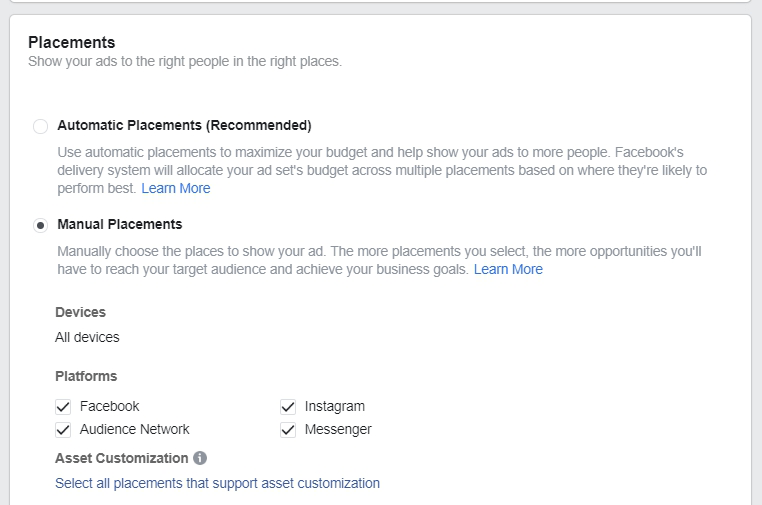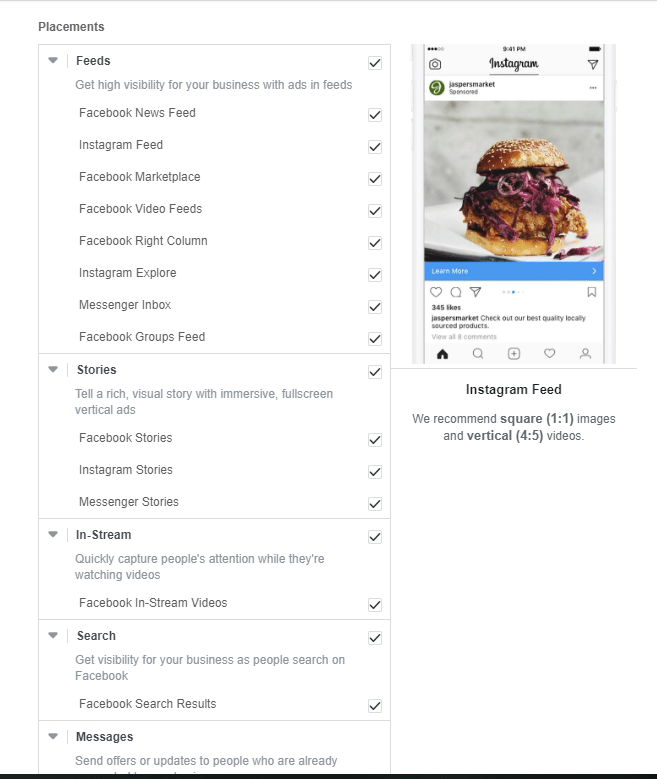 In Devices Types, you can choose a desktop and/or a mobile phone as a placement for impressions. In Platforms, you determine placements to show your ads: Facebook, Instagram, Audience Network or Messenger. When editing placements, you not only can select specific devices and platforms but also set up advanced options.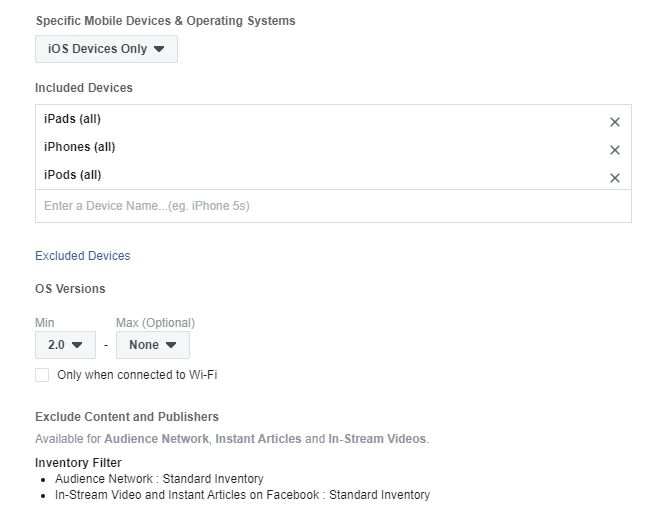 Platforms and device types can be divided into different ad sets to adapt and test content. Although, we recommend combining them for more efficient optimization. At the same time, it's important to look at how ads will be displayed on all devices in advance at the ad level.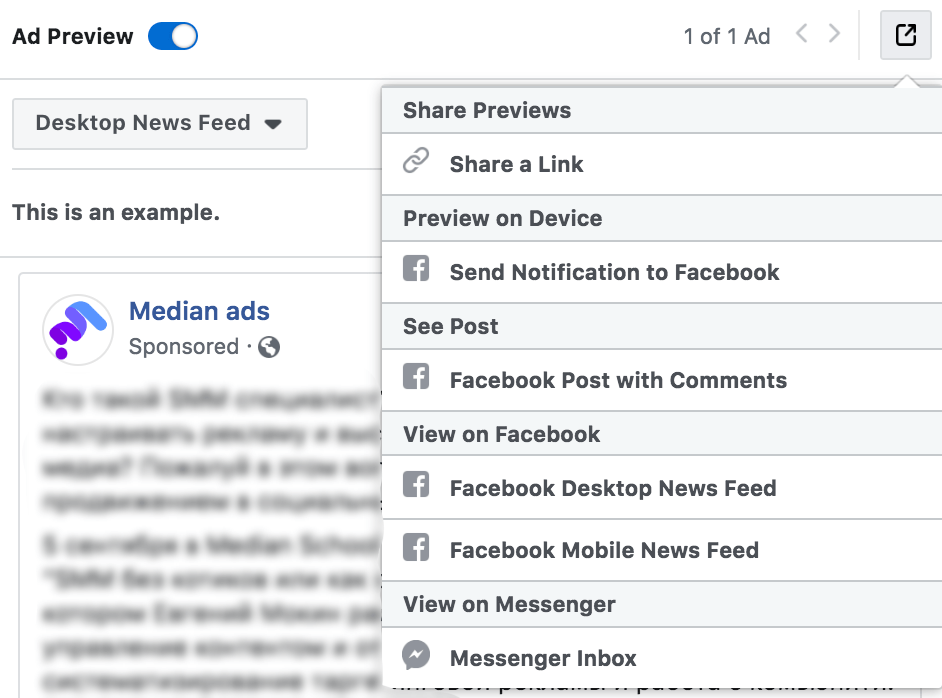 Optimization and Delivery
Then, you have to choose a way of optimization which should be based on what you're trying to achieve. It'll help the system to understand how to deliver your ads. If you choose "Conversions", the algorithm will select the audience that is more likely to convert. These options depend on the ad objective you selected.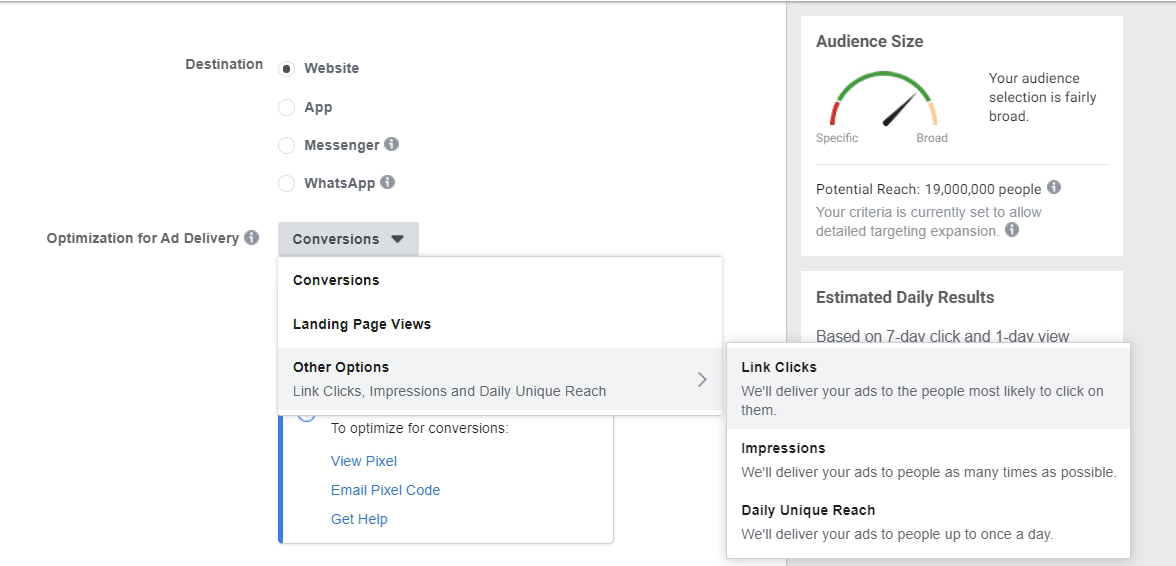 By creating a Facebook ad campaign with the "Conversion" objective, you can select such ways for optimization:
"Impressions" or "Daily Unique Reach". In this case, impressions aren't optimized and the system will show your ads with different intensity to all users from your targeting. Frequency "Impressions" — 4 per day, "Daily Unique Reach" — 1 per day.
"Link clicks" or "Landing Page Views". These options optimize impressions for users who are more likely to click on a link or view a landing page.
"Conversions" optimizes ad impressions for those users who are more likely to convert.
Bid Strategy
One of the important stages of setting up an ad campaign is the choice of a bid strategy.
To reach the target audience, you have to win the Facebook auction among other advertisers. You can do it if your ad has the highest "total value". The total value is not the amount you're willing to pay for your ad impressions. There are 3 factors which have an impact on it:
Advertiser's bid
Estimated auction rates
User value
A bid is how much you are ready to spend. It controls the cost per the result in case if you win the auction.

There are 2 bid strategies — "Lowest cost" and "Target cost". Read more about them in our article "How to Choose Your Facebook Bid Strategy".
Delivery Type
Facebook uses pacing in order to control advertiser's spend. Pacing prevents you from spending a budget too quickly and helps you to meet your cost goals even when market conditions change. You can use standard or accelerated type to get results faster. In the second case, your bid will be raised to gain a higher place in the auction and get more impressions.

Ad
First, you need to choose which page will show ads. If you select Instagram as one of the placements, you should also indicate the linked account.

Format
Facebook offers several ad formats. Choose the appropriate one take into account type of content and the purpose of promotion.

Upload your photos or use from the free stock. On the right you can find the recommended image specs. You can create up to 6 ads at once by uploading multiple images. All Facebook recommendations can be found in the "Creative Hub" section.

All ad settings are on the left side of the page. On the right, you can see a preview of your creative in various placements.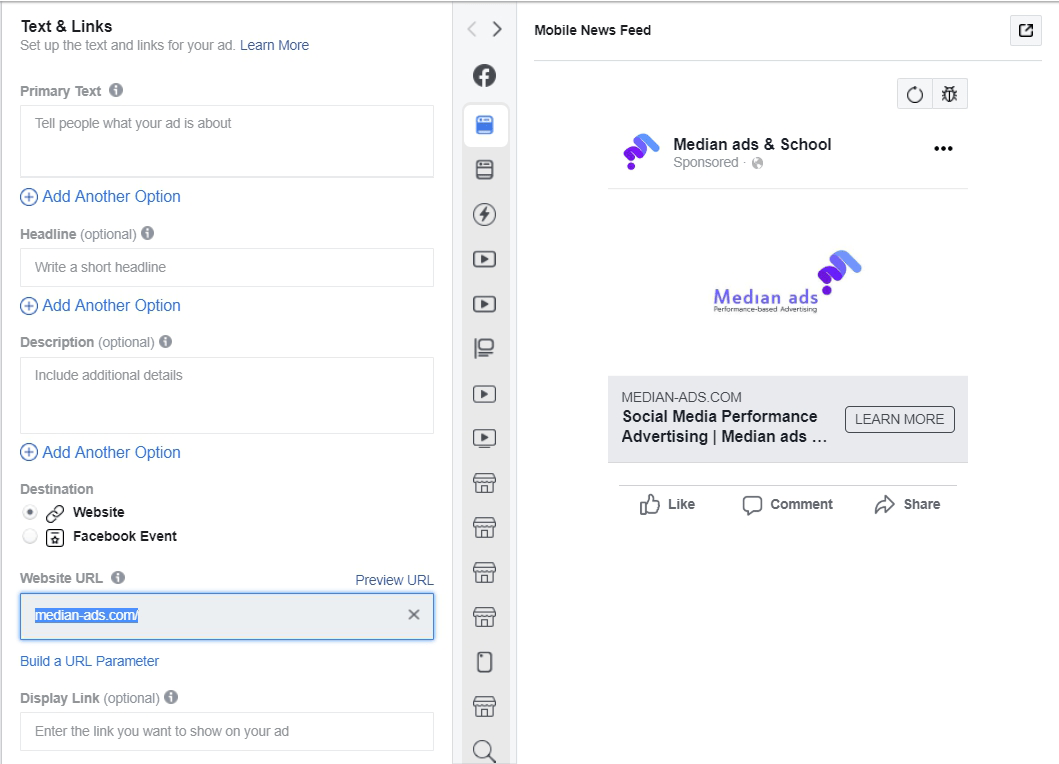 Then, you fill in the required fields: headline, text, website's URL, call to action, etc.
When everything is ready, click the "Confirm" button and your ad campaign will be sent for moderation.
It's important to remember that the ad campaign's effectiveness is determined by the communication strategy you choose since the settings only correlate the cost per result. The target audience makes decisions from the perspective of what they see in ads.
Acquisition and Retention Campaigns
We have reviewed a process of an ad campaign launch in full. How to apply this knowledge correctly and get effective results?
Just before launching an acquisition campaign, start by setting up a retargeting one in case you have a website or mobile application.
What you need to do?
To set up Facebook Pixel or SDK.
To create a retargeting funnel.
To set up events according this funnel.
To create saved audiences to distribute them into ad groups in campaigns.
To create an ad campaign with necessary objective.
Why do you need to create retargeting campaigns in the first place? While you are setting up an ad campaign for targeting to a cold audience, you already can start communicating with the current users.
Retention is a systematic process. Its task is to reach all relevant users and lead them to final goal. In addition, each stage of the funnel must be improved for increasing of the Conversion Rate. In the case of acquisition campaigns, testing is important in order to find the best cost for achieving the goal.
What Goal to Choose for Retargeting Campaign?
If you're sure that your audience is proper, then the percentage of the target audience increases to 100. You shouldn't worry about the delivery type and optimization of the ad campaign. In this case, the task is to reach everyone. Choose the "Reach" objective to reach everyone in the sample and get the lower CPM.
If someone has already worked with the sample before and you aren't sure about its quality, then choose the "Traffic" objective and optimize for clicks in order to cover only those users who are more likely to have an interest in your offer.
If an audience is not proper, then select "Conversions" objective and optimize for conversions. You'll lose reach but in the meantime you'll not spend a budget on untargeted impressions.
To be sure in your objective's choice, we recommend testing and analyzing the results. The selection of an ad objective for retargeting is a search for the ratio of the optimal cost per result to the number of obtained results. If you get $10 per item using "Conversions" objective and your KPI is $15, try to switch to "Traffic" objective. The cost per result is likely to decrease, but sales will rise as in this case more people will see your ads.
If you don't plan to promote actively, you have to launch retargeting campaigns. This will help you reach the loyal audience and lead them through the funnel and to spend big budgets. Most of the costs always are given on acquisition campaigns. If you don't have enough budget, run retargeting campaigns exclusively.
How to work with acquisition campaigns?
Planning and implementation of the acquisition campaigns is completely different.
The first stage is testing. You have to create personas, messages, target groups, saved audiences (targeting combinations). Additionally, you have to create saved audiences based on data (lookalike audience from the database, lookalike audience from events, etc.)
When testing is in progress, you need to move to stabilizing and optimizing.
Check how to do it in our guide "How To Optimize and Scale Facebook Ad Campaigns".
To Sum Up
With this article, you can create and set up an ad campaign without any experience. Improving your skills, you'll understand how you can manage your ad campaigns to get more effective results from communication with the audience.
We would like to summarize some important points:
Determine the business value of launching an ad campaign. This will help you choose the right ad objective and a way of optimization. For instance, you shouldn't drive traffic to a website without optimization for conversions if you have a specific goal to sell something or get a registration.
Examine your target audience for the right communication strategy. Composing various insights, which you'll use in an ad campaigns, helps you find that way of communication that allows you to get the most valuable result.
Set up an ad account and correctly specify the currency, otherwise you won't be able to change it later. If you change it, you'll create a new ad account.
Install Facebook Pixel or SDK to track the events you need and to optimize ad impressions.
Just before launching an acquisition campaign, start working on creating retargeting one.
Create saved audiences for your acquisition campaigns to work through the same target groups in order to nurture the need for your product.
Don't forget about the ad fatigue and the overlapping of audiences in order not to lose loyalty.
We wish effective results to you! 🙂
Subscribe to the Telegram channel and Messenger chat bot to get the new content from Median ads first.