How to Use Facebook Business Manager: A Complete Review
Facebook Business Manager is a service for advertisers in the form of a command center with all account activities. In this article, you'll find a complete review of all its functions and capabilities. We described in detail how to create and set up Business Manager in order to work with your projects more effectively.
Why do you need to use Facebook Business Manager?
Business Manager is a Facebook tool to organize and manage your business assets. In the business account, you are able to manage applications, pages, and accounts. Moreover, you can download product catalogs, create publications, add payment methods, and more.
Using Facebook Business Manager, you can focus only on your work, which helps you not to be distracted by news feed, notifications and friend's messages.
The next reason to use Business Manager is a moderation of more than one page and an ad account for yourself or your clients.

Now, when it's clear why you need to set up Business Manager, let's take a closer look at how it works.
Working in Facebook Business Manager
One of the important Business Manager's elements is the provision of layers of access to all assets. It helps manage and control ad accounts, Pages, and catalogs. To avoid confusion, it's better to transfer all pages, advertising accounts, and pixels you already have to Business Manager.
There are two layers of permissions.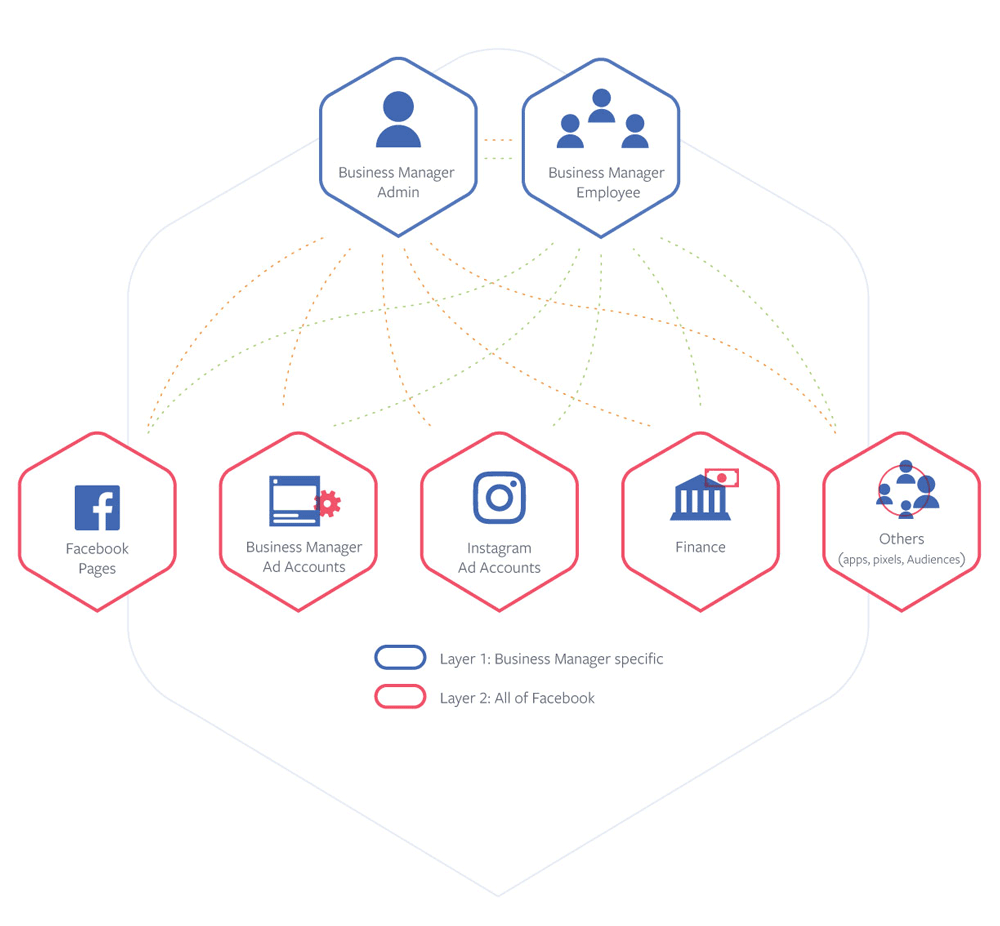 The first permission layer
The first permission layer allows adding people to your business as admins or employees.
► Admins control all components of a Business Manager. For example, they can add or remove people from the employee list, and modify or delete the business.
► Employees can view information in business settings but can't make any changes. Admins can assign them the role of admin.
Add people here: Business Settings ⇢ Users ⇢ People
People are specific persons which are granted access to your account assets. You don't have to be friends with people you assign roles to for your ad accounts and so on. They can never have to see your personal profile and you don't have to see theirs either.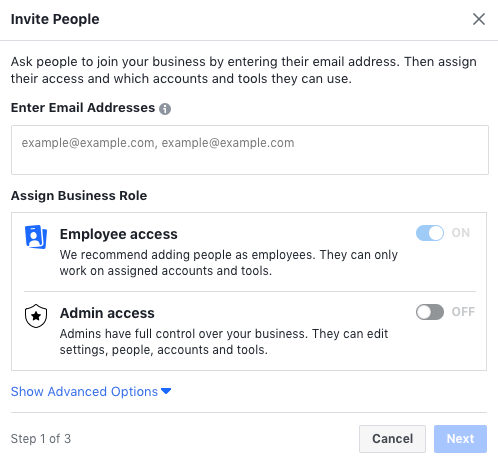 The second permission layer
The second layer allows you to share the access with partners or agencies to manage your business assets:
► Pages. A page can only live within a single Business Manager at a time. However, they can have multiple partners or individual accounts that manage ads on its behalf.
► Ad accounts help to promote connected pages and applications. Every ad account should have a person who is allowed to launch ad campaigns and an associated payment method. Ad accounts can be shared with any business but should be owned by the Business Manager of the company which is managing invoices.
► Applications. Apps can be owned by Business Manager and shared with partners. App ID helps admins to indicate the people who download an application. An app in Business Manager can also be connected to one or more ad accounts.
► Pixels. In Business Manager, you are able to create up to five pixels, which can be shared with partners.
► Audiences. Business Manager gives an opportunity to share custom and lookalike audiences with other ad accounts or agencies.
You can add partners here: Business Settings ⇢ Users ⇢ Partners
To add a partner, you have to enter a Partner Business ID for generating an invitation. They can check it by going to the Business Info in their Business Settings. Once you send the link, the partner must accept this invitation within 30 days or it will expire. A link may only be used once.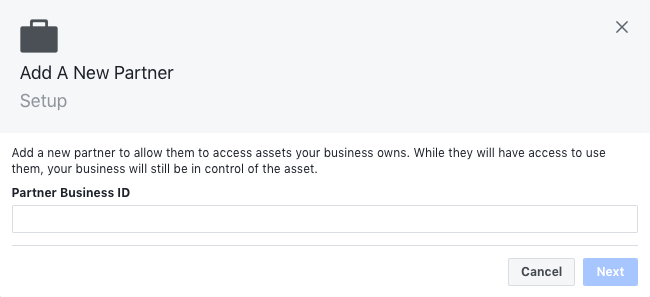 Once partners are accepting an invitation, they will be able to share permissions with their colleagues in order to help manage your account or run ads.
Additionally, Facebook offers to an option to add System Users. They represent servers or software making API calls to assets connected to Business Manager. Read more about them in Facebook for developers.
We sort out all permission layers. Now let's see into each of the sections in Business Manager.
Settings
The "Settings" section refers to a specific ad account.
Here you can:
► manage ad accounts: edit settings, set attribution window, add account roles;
► manage pages;
► manage billing preferences, add payment methods, set account spending limit;
► adjust all ad notifications you receive.
Billing
In this section you can find the billing information for your ad account: payment history, different charges, like when you made a payment, how much you paid, the reason you were charged etc.
There are also resellers which can help companies with ad serving processes. You are able to sign contracts with them, use cashless payments and receive official documents you need. The percentage that these companies take for work depends on many factors, for example, the currency you choose to pay for ad campaigns.
Assets
► Audiences. In this section, you can create lookalike, custom and saved audiences.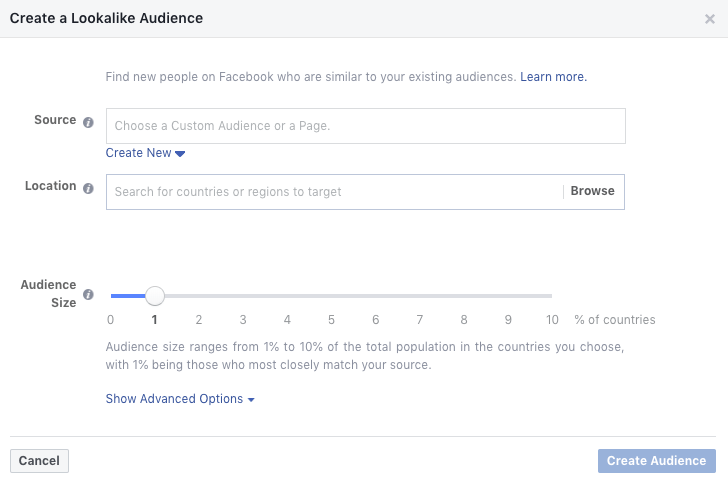 You have to choose a source audience for creating a lookalike one. Facebook recognized the common qualities (e.g. interests) of all members in it and find people who are similar to them.
Note that a source audience must include at least 100 people from one country in order to use it as the basis.
We described how we create lookalike audiences in our article
► Images and Videos is a database for visual media.
► Catalogs can be used with various ad formats, including dynamic ads and carousel ads. Catalog Manager allows you to create and manage a catalog of your products, flights, hotels, real estate and more.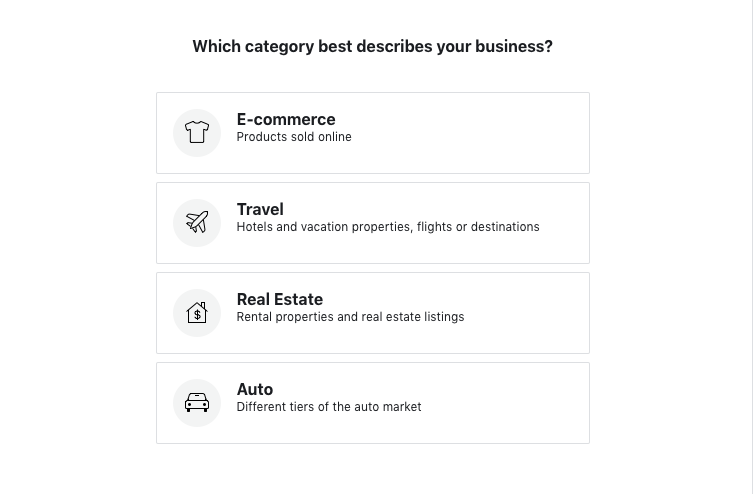 ► With help of Business Locations, you can target ads to people near specific business locations (addresses).
► If you don't want to run your ads in some specific placements, you can create Block Lists. You just need to download .csv file including apps, websites, and pages within Audience Network, Facebook In-Stream videos and Instant Articles which you want to exclude.
Additionally, you can also download a list of publisher URLs where adverts could appear and download reports with all placements where your ads run.
Measure & Report
►In Ads Reporting, you can create reports with all needed metrics and audiences, save them and send them to your email.
► Test and Learn is an option which helps you check what gives the best results in ad campaigns. You have to choose a question which you are interested in and then the instrument runs a test and looks for the answer.
► Facebook Attribution is a free tool which is powered by the Facebook Pixel and can report on campaigns across Facebook, Instagram, Audience Network and Messenger. The reports will show you how Facebook ad campaigns are impacting actions throughout the customer journey.

► Facebook Analytics is an analytics service for tracking user interactions with the product in connected data sources. It allows you to understand and optimize a complete customer journey across mobile, web, bots, offline, and more. How to work with it effectively and set up reporting correctly, read in our article "Facebook Analytics: Become the Master of the Reports".
► In Events Manager, you can track and optimize the results of ad campaigns that use event data from a pixel. Additionally, it's possible to collect data and optimize it with the help of custom conversions.
► With the help of offline events, you can evaluate the effectiveness of your online advertising, if the client ends his journey in the offline world. Read more about this type of events in our article "Advertise Your Offline Location and Measure the Business Results".
► App Events help track the actions of people in your application.
► The section also includes Partner Integrations. Here you can create connections with partner accounts for management. With this data, you can measure the impact of your ad campaigns, drive more conversions and create relevant audiences.
Create & Report
► Business Manager includes general information about your page and review of all ad accounts.
► Ads Manager is a place where all your active and inactive ad campaigns are.
► In Page Posts, you find scheduled, published an ads posts. Here you can also create a new post.
► App Dashboard contains all connected apps. App Ads Helper checks app's settings, latest install events, and shows past 60-day app events history snapshots.
► An option "Automated Rules" you are able to create rules which will notify you about changes in your ad campaigns automatically.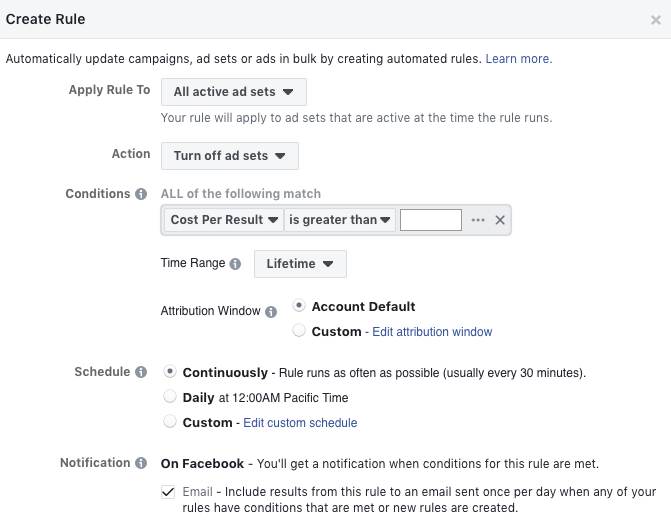 We don't use this option, as we monitor all campaigns daily. With attentive control, there will be no surprises and you will able to understand what to expect tomorrow. For example, you may receive a notification that a certain ad campaign should be turned off, but you don't understand the reason for this problem. However, in the case of complete understanding the nuances of the campaign's work, you would decide only to adjust the settings.
Plan
► Facebook Audience Insights is an analytical tool for the detailed study of the target audience and search for insights which help to create the correct communication strategy. To figure out how to analyze data effectively, we suggest you take an online course from Facebook Blueprint.
► Creative Hub is a platform which allows organizing a joint work with your colleagues on ad mockups, practice in its creation, and be inspired by creative examples.
► Campaign Planner is a tool for creating, comparing and buying media plans, as well as sharing them on Facebook, Instagram and Audience Network. It's only available to advertisers who use Reach and Frequency type of auction. This type is now only launched for certain ad accounts. You can learn how it allows you to reach a significant number of people predictably and control the frequency of impressions in ad campaigns on the Facebook online course.
To Sum Up
Facebook Business Manager is a powerful tool that allows you to:
collect all assets in one place: pages, ad accounts, people;

manage everything efficiently and safely;

give different layers of permissions to colleagues, employees, and partner agencies;

add several different formats and types of payment and more.
Subscribe to our Messenger chat bot or Telegram channel to stay tuned for the latest information on advertising in social media.