According to the Digital 2020 report, the number of Internet users has exceeded 4.5 billion, and this figure is growing every day. The average person is online 6 hours 43 minutes a day and 50.1% of people use their mobile devices for this purpose. More specific numbers:
2.5 billion active Facebook users daily
1 billion active Instagram users daily
There are practically no goods left that could not be bought on the Internet, and services are gradually being digitalizedб bars for example, are moving online, sports training are carried live.
A new generation is born with a phone in hand. Therefore, it is important for businesses to learn how to find these people on social networks and talk about their offers. Targeted advertising will help them with this.
What is targeted advertising
The definition of targeted advertising comes from the English world "target", which means the goal. Thanks to the settings in the Ad account, you can create ads in such a way that they are shown to your target customers. We described in detail how to determine the target audience here  Settings for geographic location, age, gender, interests, and many other factors more likely affect potential customers to take any target action, for example, buy, subscribe to a page, leave a contact, etc.
After you have chosen an ad goal, formed a portrait of the target audience, like socio-demographic characteristics, interests, and behavior, it's time to choose an ad format.
Examples and main formats of targeted advertising
The main components of targeted advertising are text, headline, call to action, image, or video.
Text. The recommended number of characters: 125. This is what the user will see without deploying ads, so here in one sentence should be the main point. By its content and form of presentation, the text can be emotional or rational. The brands' ton of voice, general advertising concept of the campaign, and the reactions of users later will help you to determine the style. Track which messages they respond best in order to create similar ads in the future. We also advise you to read Facebook's ad rules, to know in advance which goods or services are prohibited for promoting.
Title. It is placed below the image and should be not more than 25 characters.
CTA (Call to action). 30 characters. Briefly explains to the users what you want them to do: click, navigate, buy, etc. It must be a very short and easily understandable text.
Once you've created your ad text, start to work on your creatives. In order to do this, you need to choose a format:
Video. Today, video is gaining the largest number of reach among the target audience. The good news is that the video suits any goal and budget. Depending on your settings, it can be shown to audiences in the feed, Stories, or inside another video on the platform. Facebook recommends using videos with H.264 compression, aspect ratio from 9:16 (in Stories) to 16: 9 (in feed), up to 4GB in size, and a maximum length of 240 seconds.
Image. This is a universal ad format that a user can see in the feed and stories on Facebook, Instagram, and Messenger, in a total of 13 placements. Text block un the image for feed should not occupy more than 20%. You can check your ad for correspondence following this link.
The image is used for the following goals: reach, traffic, engagement, likes, app installs.
Collection. The main goal of this format is to quickly move from viewing products to purchasing. In fact, this is a digital version of the product catalog, so it is perfect for online stores. To create Collection you need 5 images or 1 video and 4 images. The Collection is displayed in Facebook and Instagram feed and is used for traffic, conversions, and sales.
Carousel. Allows you to place up to 10 images or videos in one ad. It is also a convenient option for an online store with a wide range of products.
Instant Experience. It is a mobile full-screen ad format that opens on a click. In Instant Experience, users can view photos and videos, scroll through carousel galleries, fill out forms, explore products, and interact with images with tagged products. Instant Experience supports almost all Facebook ad formats: carousel, single image, single video, slideshow, and collection.
Lead generation ads. Allows you to collect contact information from your potential customers in just 1 click. People can simply tap your ad and a form pops up – it's already pre-populated with their Facebook contact information and ready to be sent directly to you. Leads will help you collect newsletter subscriptions, test drive appointments, event registrations, and more.
Offers. These are ads for discounts or special offers that you provide to customers. There are 2 types of offers: 1) online when users who have saved it will receive a reminder to use it; 2) an offer that can only be used offline at your outlet.
Post Engagement. When choosing this format, you can choose the goals:
1) Brand awareness. Advertising on Facebook and Instagram helps you reach the target audience who will be interested in your product.
2) Reach. Show your ad on Facebook, Instagram, Messenger and WhatsApp to the maximum number of relevant users.
3) Video views. A tool to increase awareness through video ads.
Event responses. Helps engage target audiences to your Facebook event.
Page likes. This ad can be used to drive users who are interested in your product, service, or content to like your Page. This is one of the ways to grow your subscriber audience.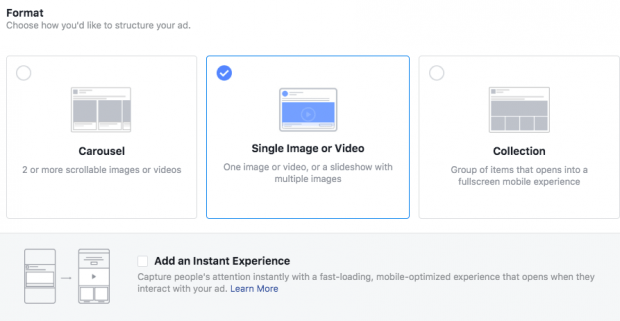 These formats can be used both for desktop and mobile.
If you run ads on VKontakte, keep in mind that the most popular format for this social network is the universal post. Its goal is to reach and display your ad to the largest number of people. With its help, you can promote almost any publication created in the ad account.
Advantages and Disadvantages of Targeted Advertising
With all its functionality and precise settings, targeted advertising is not a magic pill for your business. Therefore, before launching any ad campaign, we suggest discovering all the pros and cons.
Benefits of targeted ad
Target audience. You decide who, when, and where will see your ad. You set up all this data in your Ad Manager during the creation of an ad. The mechanism is quite accurate because people leave information about themselves on social networks, and their behavior also affects targeting.
Personalization. You have identified the target audience, then personalize your message for it. For example, our client, an English jewelry brand, offers birthday discounts every month. Therefore, we are setting up a separate ad message for girls who will have their birthday next month.
Disadvantages of targeted ad
Audience burnout. Targeted ads will definitely be displayed to your audience. But if it always the same ad, then the customers will get tired of it, stop noticing it and won't react. Over time, the CTR (click-through rate) will run out. To prevent this from happening, you need to change your ad creatives tome to time.
Ads moderation. We have already said a little about this above. Each social network has its own rules for displaying and designing ads. Before you advertise your product, we recommend you to check them. This will help you to prevent the ad blocking.
How to set up targeted ads
Setting up a targeted ad is a process with many nuances. There are a lot of features, so we advise you to understand them before launching an ad campaign for not to waste your budget. For more information, you can read our article with detailed instructions on setting up an ad on Facebook and Instagram.
How much does targeted advertising cost?
The cost of targeted advertising includes several factors: target settings; buying type, audience features; placement; competition, conversion rate, ad quality.
Existing payment models:
CPM – payment for 1000 impressions;
CPC – payment for clicks;
CPI – payment for installations;
CPV – payment for video views: viewing from 2 seconds or from 15 seconds on ThruPlay.
Useful tips for launching targeted ads
Create separate ad campaigns for cold/warm/hot audiences.
Separate sets by interests/behavior/look-a-like audience.
Setup Exclusions to avoid audiences overlap.
Test different sizes of look-a-like audiences (1-3%, 4-6%, 7-10%) in separate campaigns.
Test a wide audience without detailed targeting. It happens sometimes that Facebook itself finds cheaper results than when you set up an ad with detailed targeting. Not always, but it happens.
Use the appropriate creatives for the appropriate ad-level placements: 1:1 or 4:5 for the news feed and 9:16 for stories.
Update the audiences you've created in Ads Manager before. For example, the audience interacted with a Facebook page/post/advertisement or watched a video, visiting the web-site.
Post links using UTM tags so that Google Analytics can track the results later.
Срусл the results and turn off what doesn't work. This applies to both ads/ad groups/campaigns and geotargeting/placements.
In retargeting, use substitution of communication. This allows you to enhance the offer effect, and users do not get tired of the same ad.
Conclusions
Targeted advertising is not something that only Big brands need. In the great competition word, your business won't be able to grow. And it is not only for sales, but also to maintain awareness of your brand, bring a new product to market, in case of rebranding and other marketing events.
An important role in the ad effectiveness plays not only targeting settings but also the ad format. Today, video ads, Stories, and carousel are the top performers.
Before setting up targeted ads, think about communication strategy. This will allow you to plan ways to influence users: through emotions or rationality.
Subscribe to our Messenger bot and Telegram channel to receive the most useful content about advertising on social networks.