In May 2017, the Q&A platform Quora officially invited all advertisers to try out Quora Ads Manager after its beta test had been finished. Any user can now create an ad account and launch the delivery of the text ads across the platform. What can you expect from Quora Ads Manager? We tested it, and here are our thoughts.
Unlike Facebook or Instagram, Quora is not a place for a quick entertainment. Users come here to get the support, before making their decisions. That's why the possibility of showing ads on Quora seems as a tempting option.
The problem is in how the audience is concentrated. The website is not equally popular in all parts of the world. In addition, Quora sets strict requirements not only to the content, but also to the text formatting. Therefore, before directing any spends into this channel, you need to become familiar with its specifics.
What advantages does Quora offer to advertisers?
In its official announcement of the Ads Manager release, Quora calls on advertisers to try the following advantages:
Engaged audience. Most users of the website are highly educated residents of metropolitan areas.
High-quality organic content. Your ads will be shown next to the content, which is constantly moderated by the platform.
High user intent. Quora allows you to target questions, that users themselves formulate. Your text ad can appear under user's question and contain a response to it.
Clear measurements. The platform offers an analysis of the results by the clear set of metrics. You can also integrate the data from your website thanks to Quora Pixel.
Of these points, audience questions are the most challenging. The only official statement on demographics is contained in the Advertising on Quara guide, according to which, among the monthly 300 million unique users, 43/57 female to male ratio.
To find out more detailed statistics, you can use the Alexa service, which will provide a variety of parameters (for example, user geography) over the past 30-90 days.
The good thing is, Quora Ads Manager lets you watch your conversions closely and track the effectiveness of your advertising activity for a given case.
What you see, when you open Quora Ads Manager
The main page of Quora Ads Manager shows the results of your advertising activity in two sections: the Spending Summary chart and the All Campaigns table.
The Spending Summary lets you track the rises and falls of Impressions, Clicks, Conversions and Spends for the selected period of time.

The table with information on individual advertising campaigns contains data by the following metrics:
Impressions,
Clicks,
CTR,
CPC,
Conversions,
The ratio of conversions to clicks (Facebook does not have this one),
Spend,
Remaining budget.
From the start page with the stats, you can further go to:
Quora Pixel settings,
Audiences management,
Email Reports downloads, and
Creation of a new advertising campaign.
How to create an advertising campaign on Quora
As you get to the ad campaign creation part, you see the familiar structure:
Campaigns.
Ad sets.
Ads.
Quora Ads Manager was released last year, and there was no reason to look for any new solutions. All advertisers can walk through the familiar setup process – from an ad campaign to an ad.
At the campaign level, you can specify:
The objective of the campaign, where you choose between Conversions and App Installs.
Maximum daily budget.
Lifetime budget for the whole campaign.
Optionally, the start and the end day of the campaign.
This is useful to know about the objectives of the campaign:
Having selected a campaign objective, you won't be able to change it. The only way would be to launch a new campaign.
If you select Conversions as your objectives, all conversions will be tracked thanks to Quora Pixel, that also has its own specifics.
What's different about Quora Pixel
You can create only one pixel, and no additional events can be added to it. If you have different types of conversions on your website, Quora Pixel will collect them all together. Another option is to select one main event, that you will be tracking.

At the ad set level, you can configure:
What targeting options are currently available on Quora
Quora targeting is divided into primary and secondary sections.
In the primary section, you can see Contextual, Audience, Behavioral and Broad Targeting. These items were not all there from the start. In the beginning, only targeting by topics and audiences was available. Later, questions and interests have been added.
What you need to know about each type:
Contextual Targeting (Topic, Keyword and Question) show ads relevant to specific topics, keywords, or questions.
Audience Targeting (Website Traffic Audience, Lookalike Audience and List Match Audience) show ads to audiences that match web traffic, lookalikes, or contact lists.
Behavioral Targeting (Interest Targeting, Keyword History Targeting and Question History Targeting) show ads to users based on interests or retarget them based their history.
Broad Targeting show ads widely across Quora to maximize potential impressions.
As you create an audience, you can see two options – website visitors and similar audiences (our good old look-alikes).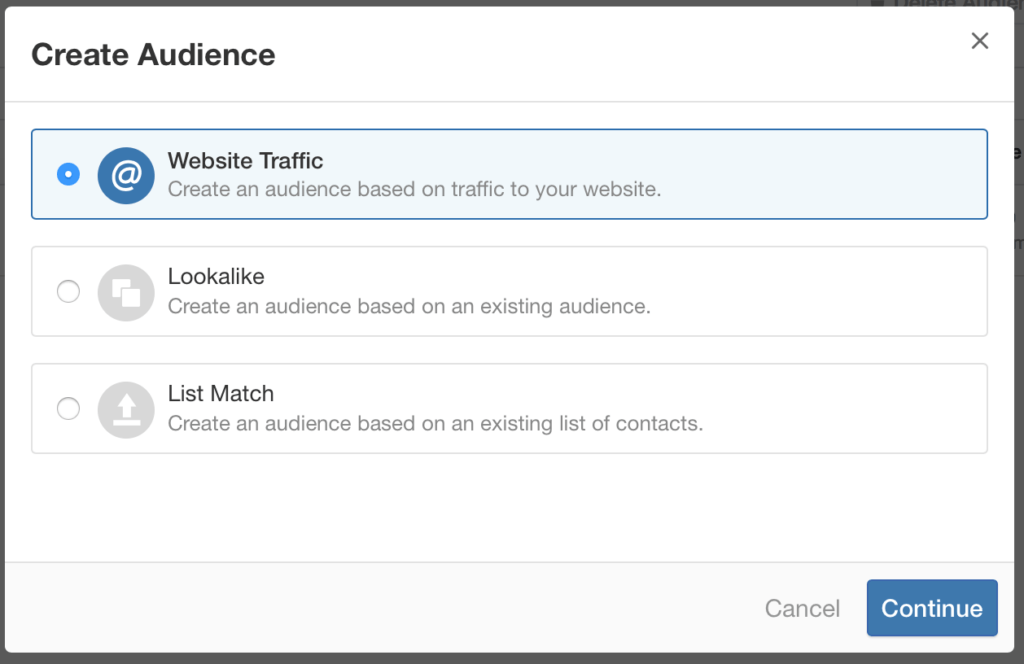 In the targeting section of the website visitors, you can also manage URL rules. Here you can choose to target:
all visitors of the website,
visitors of certain web pages,
visitors of all web pages, except those you select.
The last option is a fairly handy tool, since you can show ads to all visitors of the website, except for those who have visited the Thank You page. Thus, you will collect the audience from users who have not yet committed targeted actions.
Among the options of the primary targeting, you will have to choose one. You cannot combine them, as well as exclude one from another.
In the secondary targeting section, you select the geography and the platform – desktop or mobile. Here you can set the exclusions: by geography, questions and audiences.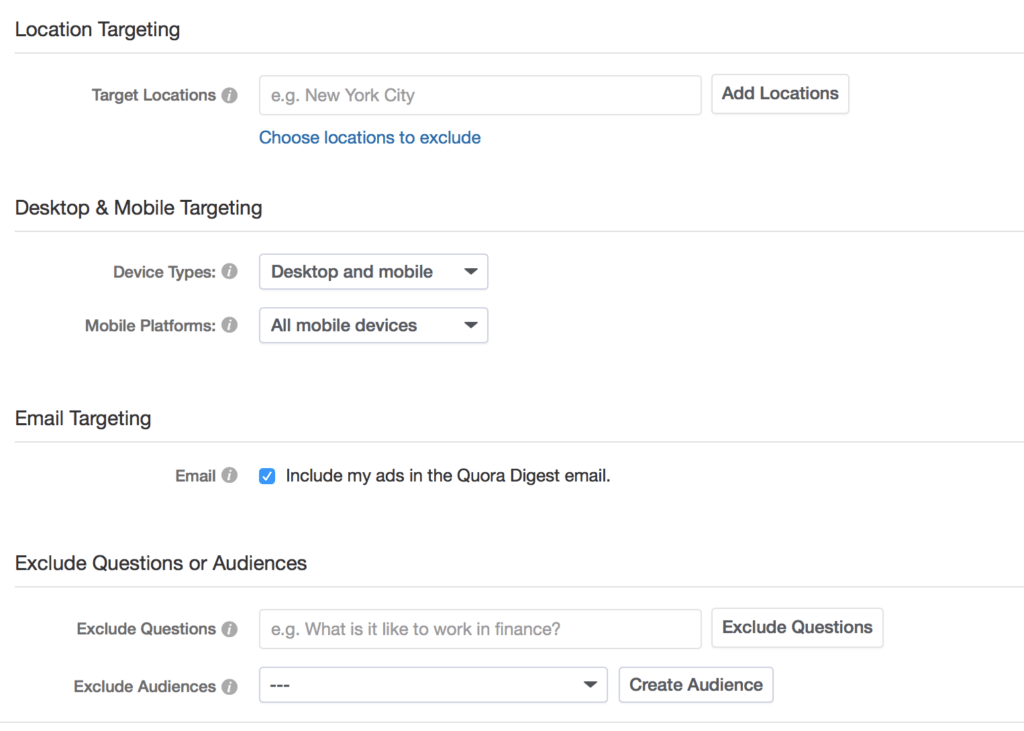 The last thing you do at the ad set level is setting a maximum bid, which is the amount you are willing to give in case the user clicks on an ad.
How do I create an ad on Quora?
Quora lets you run text ads only. To create a new ad, you need to fill in the corresponding fields.
Business Name, which appears next to the indication that this message is promoted.
Headline, that must end with a period or a question mark.
A text message, where each sentence must end with a period, a question mark or an exclamation point.
Landing Page URL, where a user lands on after the click.
Display URL, written on the button with the CTA.
CTA for the button, which you select from the list of options.
On the right, next to the fields that you fill out, you will see the preview of an ad you create.
At this point, your advertising setup is almost complete. The only thing remaining is to choose the payment method.
How Quora Ads Manager is different from other ad systems
Although the steps described above are already familiar to most advertisers, the specifics of the platform lead to the specifics the setting up process for the ad delivery.
Our list of Quora Ads Manager specific features is as follows:
You cannot set individual budgets for the separate ad sets. The budget is set for the entire campaign and gets automatically distributed within an ad campaign. If it's important for you to set different budgets for the ad sets, you will have to create separate ad campaigns on Quora.
Punctuation?! The headline of an ad must end with a period or a question mark. The text body must contain complete sentences, where each of them ends with a period, a question mark or an exclamation point.
CAPS LOCK words are outlawed too. Except abbreviations and registered company names..
Quora is a heaven for all grammar lovers. We had some cases, when the ads couldn't pass the moderation due to "incorrect grammar" with no additional explanation. After that, we changed the commas and verb forms to avoid any doubts.
But the ad moderation is automatic and is executed, at most, in half an hour. To learn whether advertisements have passed the moderation, you won't have to wait long.
Our general impressions from the Quora Ads
Quora is a website with a solid community, that lives by its own rules. But the Quora Ads Manager is quite young.
This moment gives additional advantages to advertisers. Quora users have not yet developed a mechanism for ignoring ads on the website, and are more likely to pay their attention.
When you create a multi-channel sales funnel, Quora will be a fresh additional tool in the holistic picture of warming up the audience. Thanks to its integration, you can increase the number of placements, where you intoduce yourself or remind the user about your business.
Let's sum up. What did we learn about Quora as an ad platform?
The specifics of the Q&A platform is such, that users come here with their problems and questions. Thus, targeting interests, topics, and questions initially implies a high percentage of relevance.
The structure of an ad campaign duplicates Facebook, so the process of setting up a new ad campaign won't be confusing for most advertisers.
With Quora Pixel, you can not divide the targeted actions that you track. You'll have to either choose one action, or sum up everything.
The key point is that Quora ads are now actively developing. In December of 2017, there was no Pixel at all, with only two primary targeting options.
Due to the limited geography of the platform, advertising here is unlikely to be profitable for the local foreign business. But the English-speaking online business can use such placements to complete its holistic multi-channel sales funnel.
Quora ads came out of the beta in the spring of 2017. Until last summer, few knew about the possibility of launching advertising on the website. Now many hesitate to move on to practice. Therefore, you have a chance to get some profitable conversions due to the low competition against high engagement.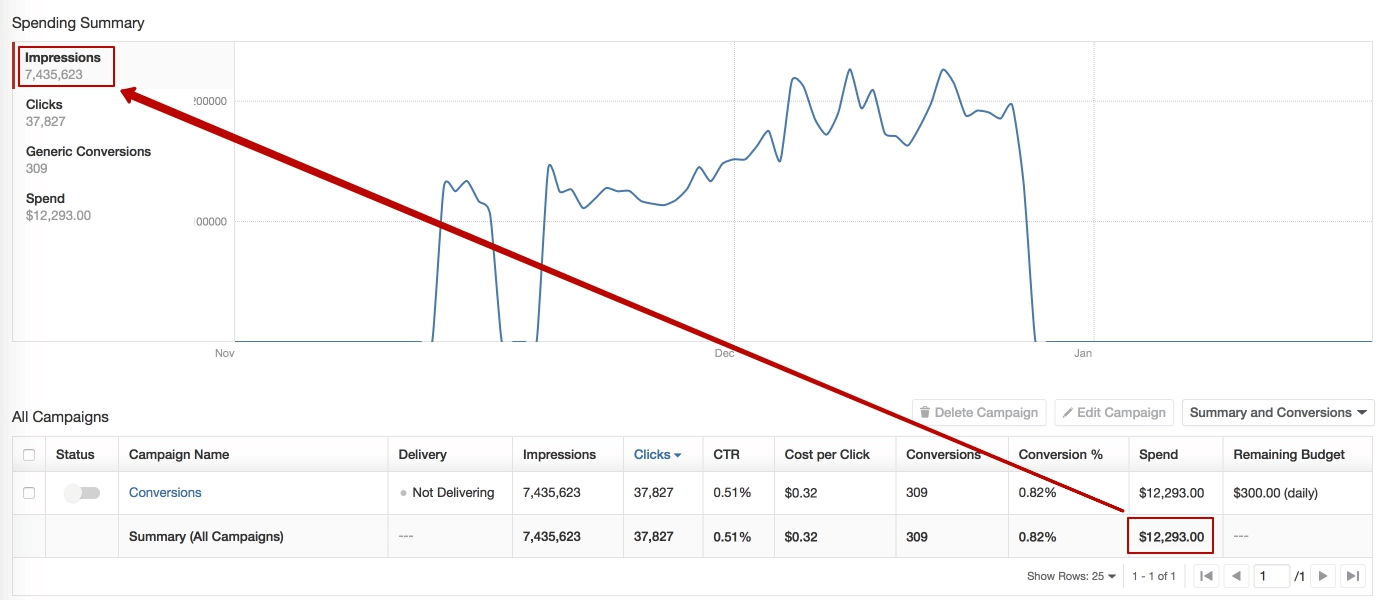 Do not forget, that it's always better to draw conclusions based on the indicators of your individual tests. Testing the channel is justified, but the effectiveness you'll get heavily depends on the specifics of your business.
We, at Median ads team, will be using Quora in our future work. So if you'd like to learn more on the practical use of its ad system, subscribe to our blog, and you'll read even more about the ad systems of other social media.