Twitter is a social messaging tool. But it's more than just instant messaging. Thousands of users advertise their services and products by using Twitter Ads. And it does work. In this article we will review everything you need to know for advertising at this social platform.
About Twitter
Twitter has been founded in 2006. For 14 years it is online news and social networking site, and a tool for "micro-blogging" as well. Tweeting is posting very short updates and thoughts to anyone who follows you on Twitter. Like Facebook status updates, you can share links, images, and videos in a tweet as long as you keep it at 280 characters or less.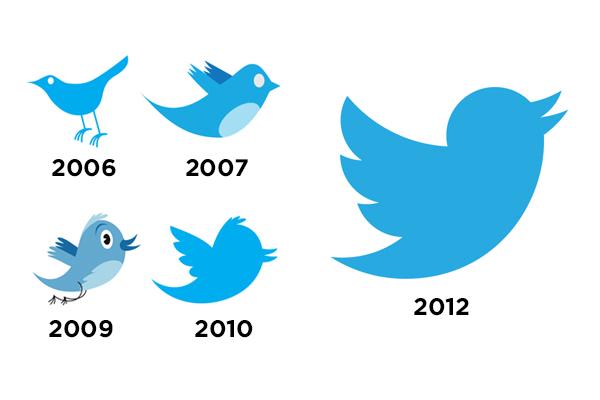 With a variety of other social media platforms, Twitter continues to be the most liked by users. Twitter became the top where most of the news is first announced. Furthermore, it has a follower base of more than 330 million.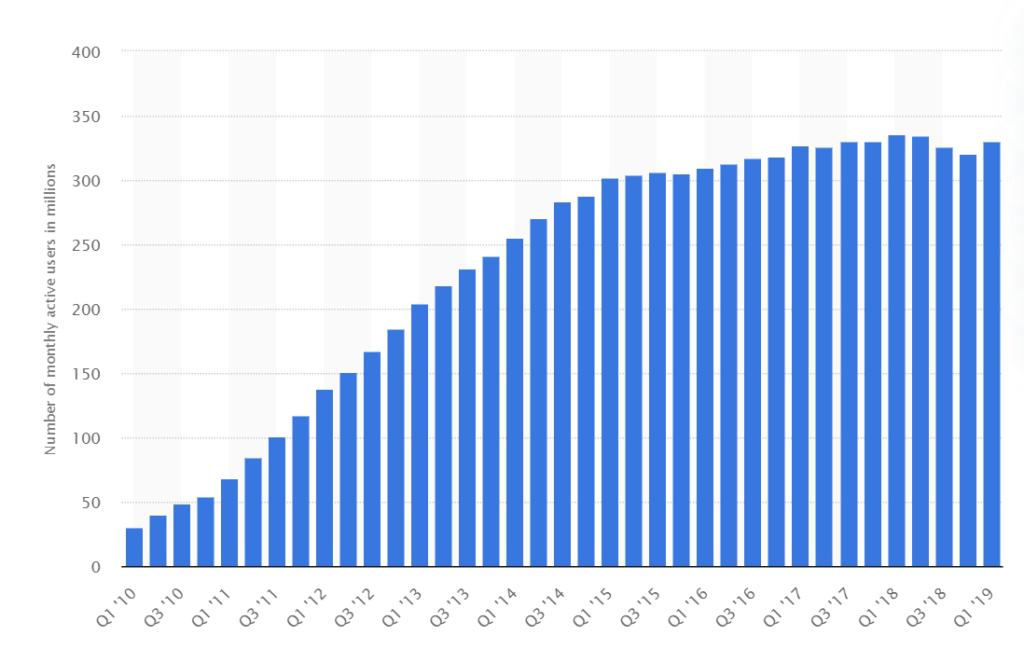 Advertising on Twitter is a great way to drive traffic to your website, generate leads or app installs, or boost social engagement with your business.
Ads Account Creation
Twitter Ads account is connected to Twitter @handle. To make an ads account, first log in to your @handle on Twitter.com. Then go to ads.twitter.com. From there you can set up your ads account. Ads will show up as being 'Promoted' from the @handle of your Twitter Ads account.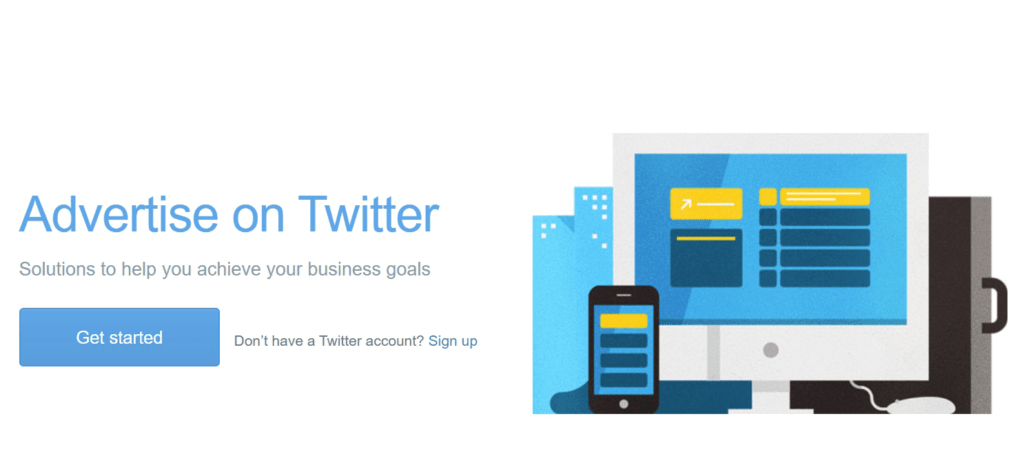 You are able to choose between two options:
Automatically promote my Tweets. This option will lead you to sign up for automatic promotion program "Twitter Promote mode".
When Promote Mode is enabled, organic Tweets that pass through the quality filter are automatically added to a daily campaign targeting selected audience. By and large, the first few Tweets of the day will receive the most promotion. Promote Mode also runs an always-on Promoted Account campaign to drive visitors to profile and gain new followers.
Launch a Twitter Ads campaign. This option will lead you to setup and manage objective-based campaigns.
Setting Up Ad Campaign
The Twitter campaign structure is very similar to the Facebook campaign structure: campaign level, ad group level, and ad level. Really it's almost a complete analogy of Facebook ads, except for a few features, which we will discuss later on.
Ad Campaign Level
Ready to start creating your ad campaign? Go to Twitter Ads section. The first thing you need to do is choose an objective.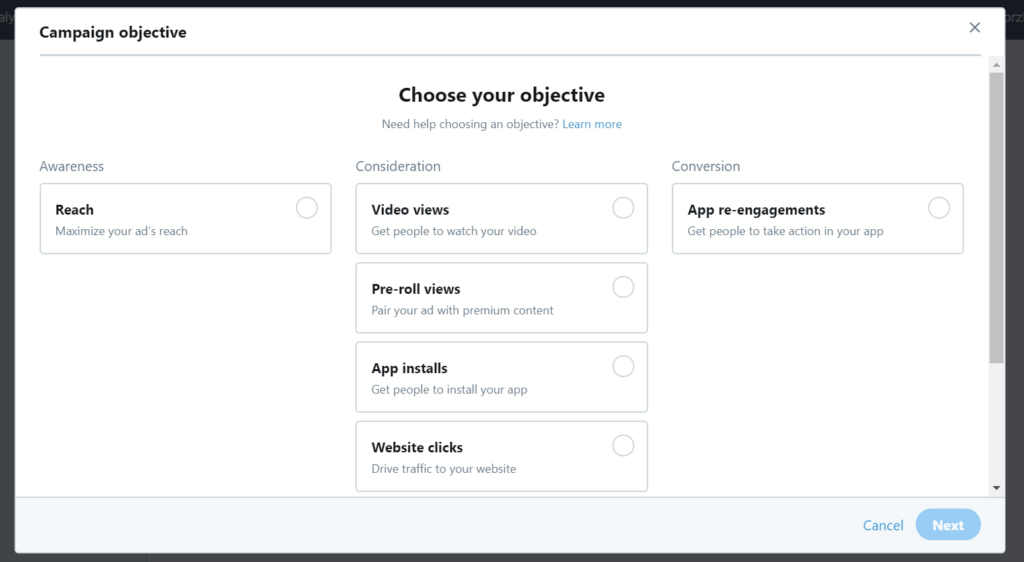 There are 8 types of objective-based campaign:
Reach (Awareness);
Followers;
Website clicks;
Video views;
Pre-roll views;
Engagement;
App install;
App-re-engagement.
The objective "Website clicks and conversions" can be selected if a Website Tag is set on the site. When you install it, at the ad group level, you will be able to choose a conversion optimization. We will walk you through how to set up Website Tag as well in this article.

After choosing a goal you'll be brought to the "Details" tab the campaign setup form. Here you'll be prompted to name your campaign, choose your funding source, and set campaign dates and budget.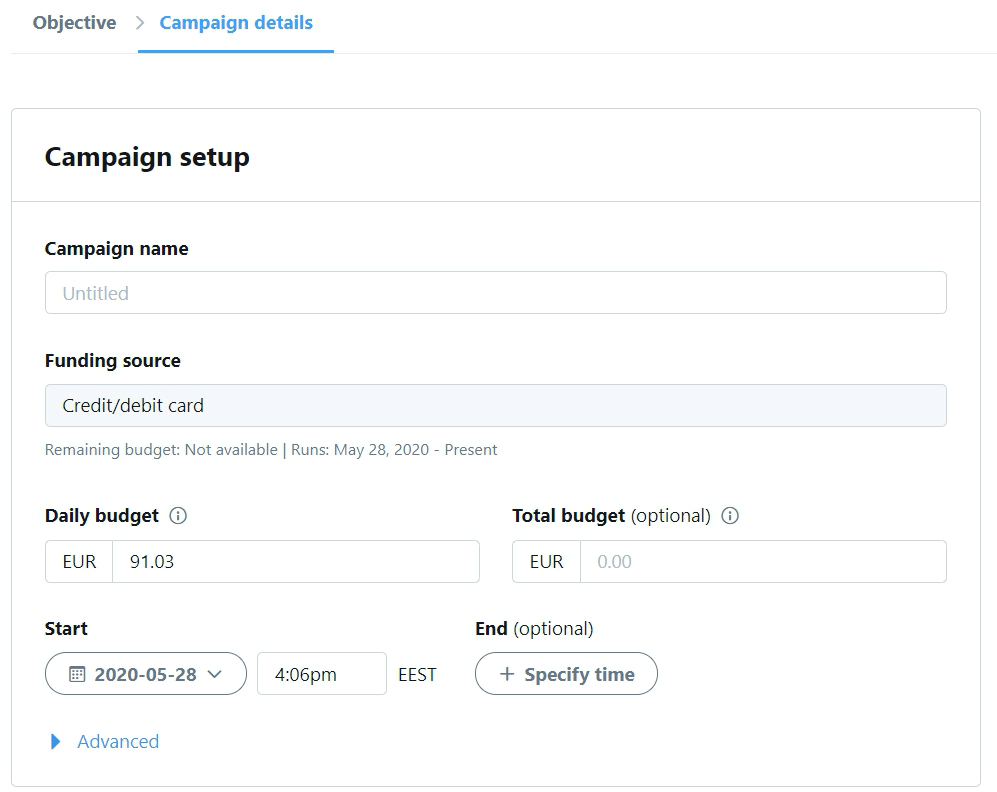 Ad Group Level
Next, we move to the ad group level. Here you can set ad group start and end times if you wish. Then select the bid type you'd like to use in your campaign.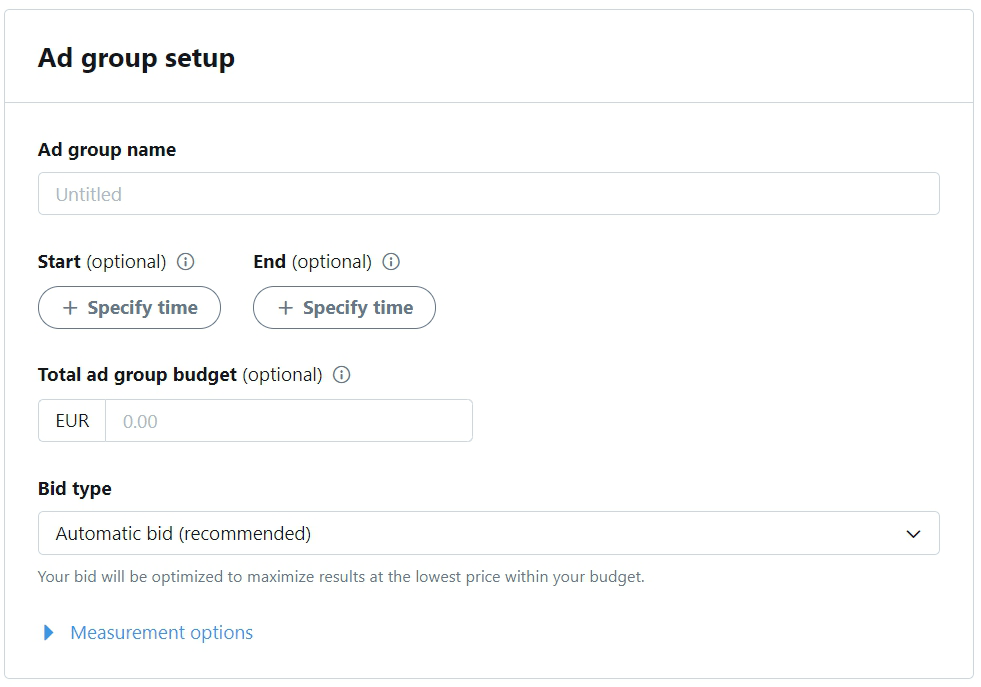 Twitter Ads run in an auction. You can choose between automatic bidding, which determines the best bid cost based on your budget and goals, or you can decide how much you will pay on your own.
There's no minimum campaign spend. With that said, the platform recommends starting with at least $30/day to consistently reach audiences throughout the day.
How much you will pay in your campaigns will depend on factors including:
How engaging your ad is.
The size of the audience you've targeted.
How many other advertisers are also targeting that particular audience.
How much you bid.
Unlike Facebook, Twitter does not have a stable ad optimization. You can still get CPA at a different price every day and not target your audience exactly. To perform KPI and to avoid unstable results, almost always use the manual bid. It will allow you to control the cost for the result. Over time, once the system has collected enough data, you can loosen control of the manual bid to get more traffic.
Creatives
Next, we have to pick out the tweets for promotion. Let's take a look at the "Creatives" tab, which you can find in the top panel.
Tweets. Here you can find the published tweets; scheduled and promoted.
Cards. Here you can create a card into which you can insert photos, videos and call to action with a link to the site.
Media. It's a library, where you store published and unpublished photos, videos, GIFs.
In some ad managers, there is an opportunity to create a carousel for tweets and cards.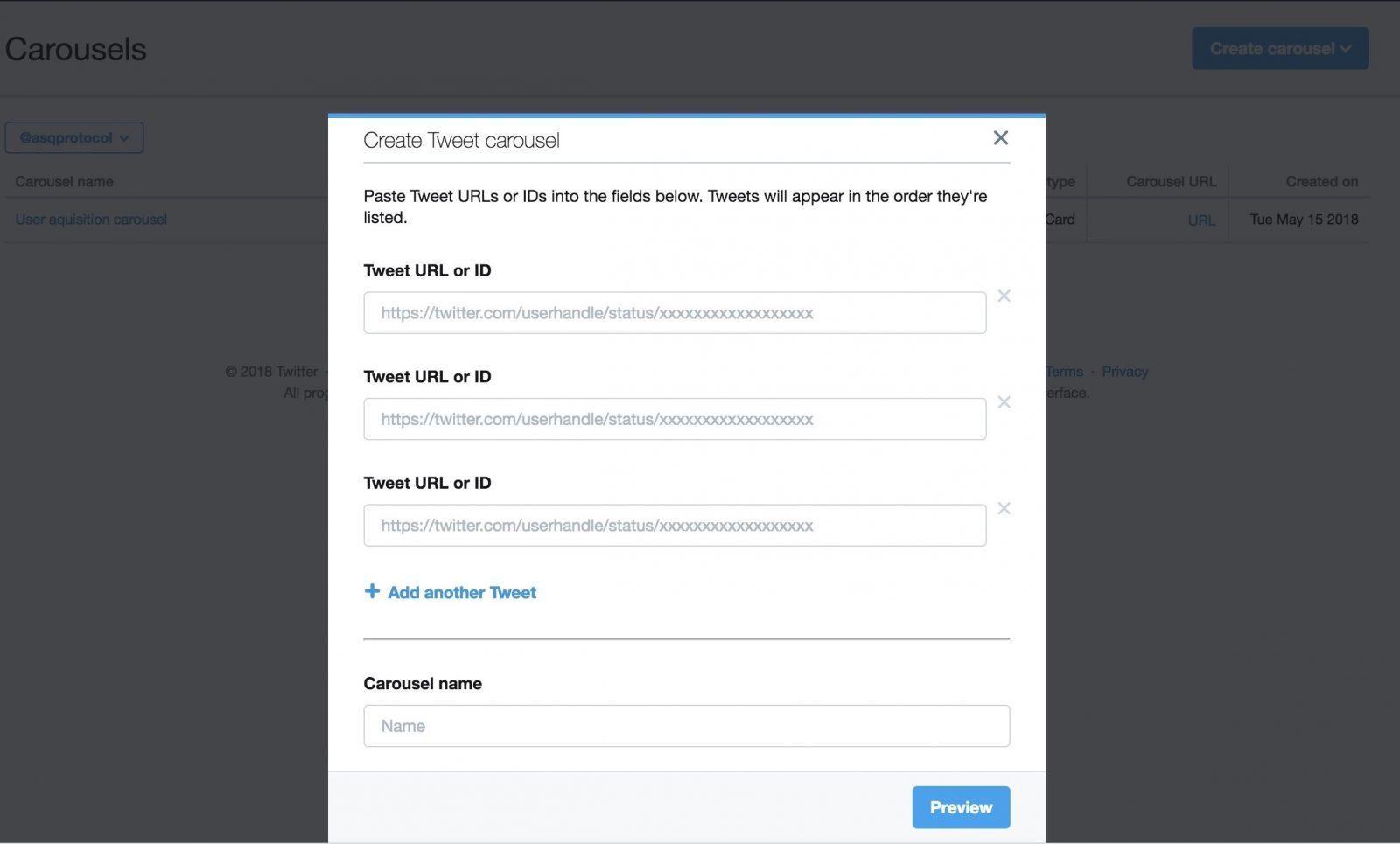 Select the Tweets you want to zero in on in your campaign. Choosing 4 to 5 is a good start. Include strong call-to-actions, like "sign up" or "start today." Avoid #hashtags or @mentions in your copy so that your audience does not click away from your ad.
The platform has some specifications for creatives. Take for example, tweet copy should be not more than 280 characters (note: each link used reduces character count by 24 characters, leaving 256 characters for Tweet copy.) Max time of promoted video is 2 minutes and 20 seconds.
Targeting
To reach audiences, you can use targeting features: OS versions, platforms, languages, device model, carriers, locations.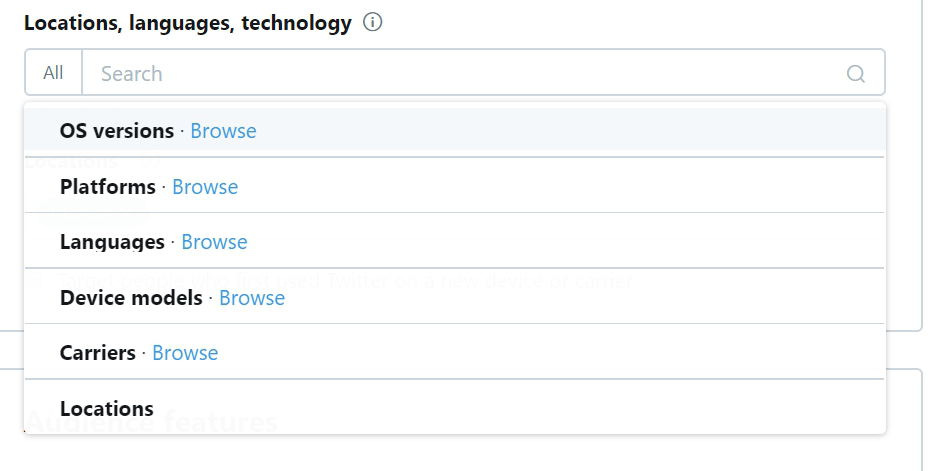 Audiences
You can create a tailored audience or download your own. You can create a tailored audience or download your own one.
Tailored audiences target your existing users and customers to create highly relevant remarketing campaigns. There are three types of tailored audiences:
Lists. Upload a list with user's email addresses or use their Twitter usernames.
Web. Target people that have recently visited your website.
Mobile apps. Reach people who have taken specific actions in your app (install or sign up).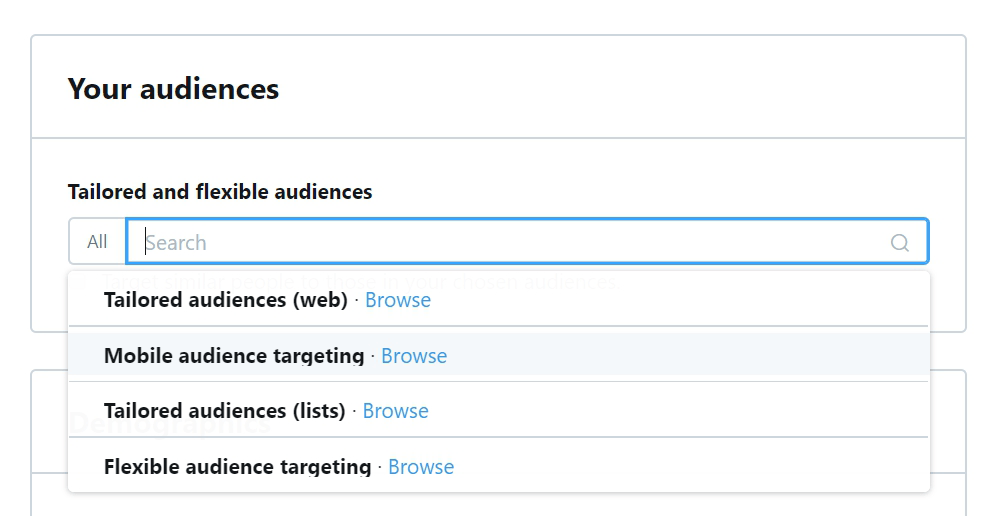 Please note that it is not possible to select the specific age that you need. The platform offers its own breakdown options. We can only guess what they are caused by.
Keywords
Twitter is a unique platform that allows advertisers to segment the target audience not only by demographics and interests but also by tracking keywords.
Keyword targeting allows you to reach Twitter users based on keywords in their search queries, recent Tweets, and Tweets they recently engaged with.
We recommend you to add a mix of relevant keywords to your campaign. You need at least 25.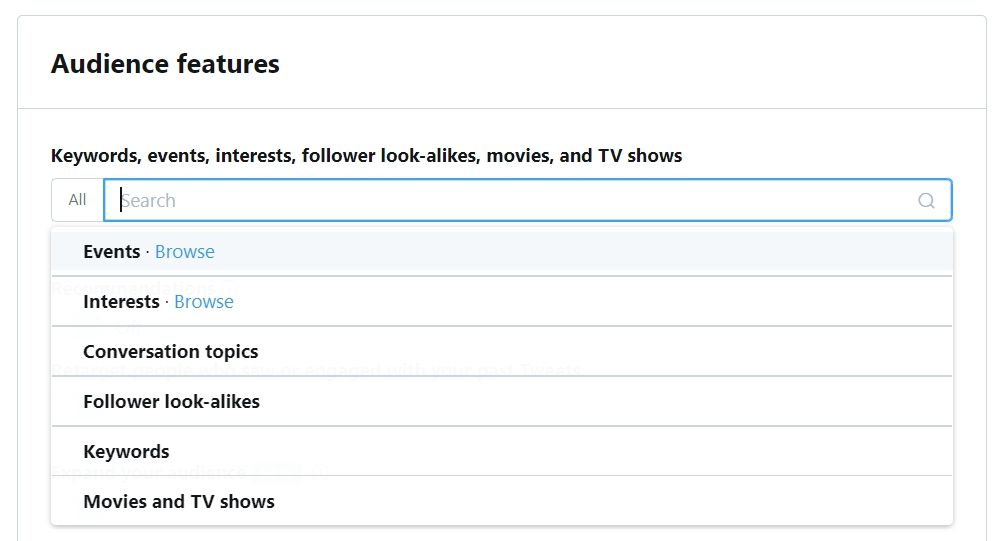 To add keyword targeting to your campaign:
Go to the Targeting section of your campaign setup
Under Audience features section, click "All" and select "Keywords"
From there, you can type in your keywords and choose to either "Add" or "Exclude" them.
Now review your final campaign setup on the "Campaign review" tab. If you'd like to add additional ad groups to your campaign, you can do so on this screen. If everything is correct, launch your campaign. Our account will appear in the search results and in the "Who to follow" side bars.
Moreover, you can advertise on Twitter via trending topics, which appear on the left side of Twitter's home page. Your promoted trend will be positioned at the top for 24 hours. This is a great way for businesses to boost engagement around a particular topic. Promoted Trends can be used for new product launches, special business events, company announcements and etc.
Unfortunately, Promoted Trends are currently unavailable for self-serve advertisers.
Monitoring Results
Filter the date range in the top right corner to see key metrics such as total spend, results (follows, in our case), cost per result (cost per follow), and result rate. You can also view a number of other metrics for your campaign by clicking on "Customize metrics".

Use campaign filters across the top of Ads Manager to more easily find the campaigns, ad groups, or ads you want to evaluate. You can filter campaigns by:
Funding source.
Objective.
Status.
Campaign name.
In addition, you can break it down by audience. There are filters for geography, gender, languages, platforms, targeting audience and age.

Analytics
You get not only the advertising service but also the full analytics which allows you to track different components of Twitter Ads activity in Ads Manager. It allows you to understand the behaviour of customers and then use the information to modify a campaign to achieve greater success.
Account home provides a summary of your account activity and highlights the top Tweets, mentions, and followers for any given month. The new landing page provides detailed information on how your account is performing, how far you've progressed, and offers helpful tips on how to improve your account strategy.
The Tweet activity dashboard is a tool you can use to learn more about your tweets and how they really resonate with your audience. By clicking on any tweet, you can get a detailed view of the number of Retweets, replies, likes, follows, or clicks it receives. This tool can help you to get keen insights into who your audience actually is, especially those who engage with your Tweets.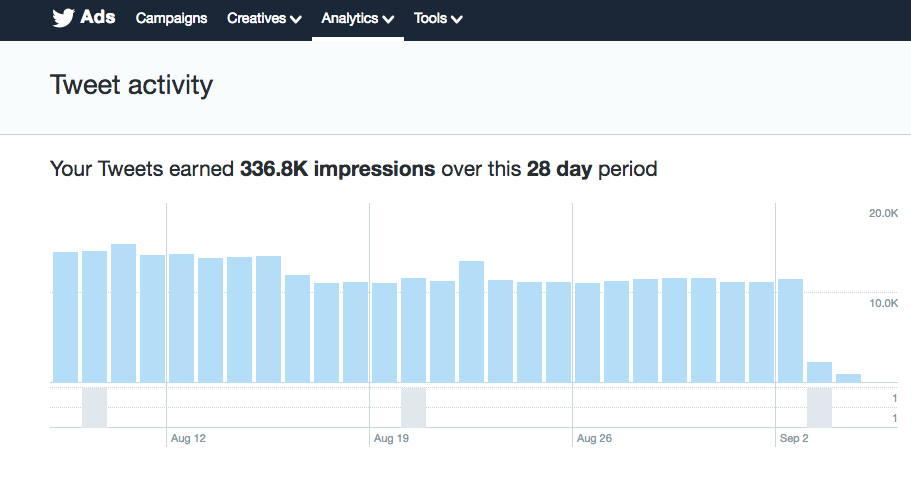 This dashboard provides a real-time look at the people who are the most relevant to you, such as your followers or people who have engaged with your Tweets. Here you can learn about your audience's demographics, interests, lifestyle, and purchase behaviors — and leverage these insights to generate the most relevant messages and help you identify new audiences.
For example, focus on sports topics in your ads.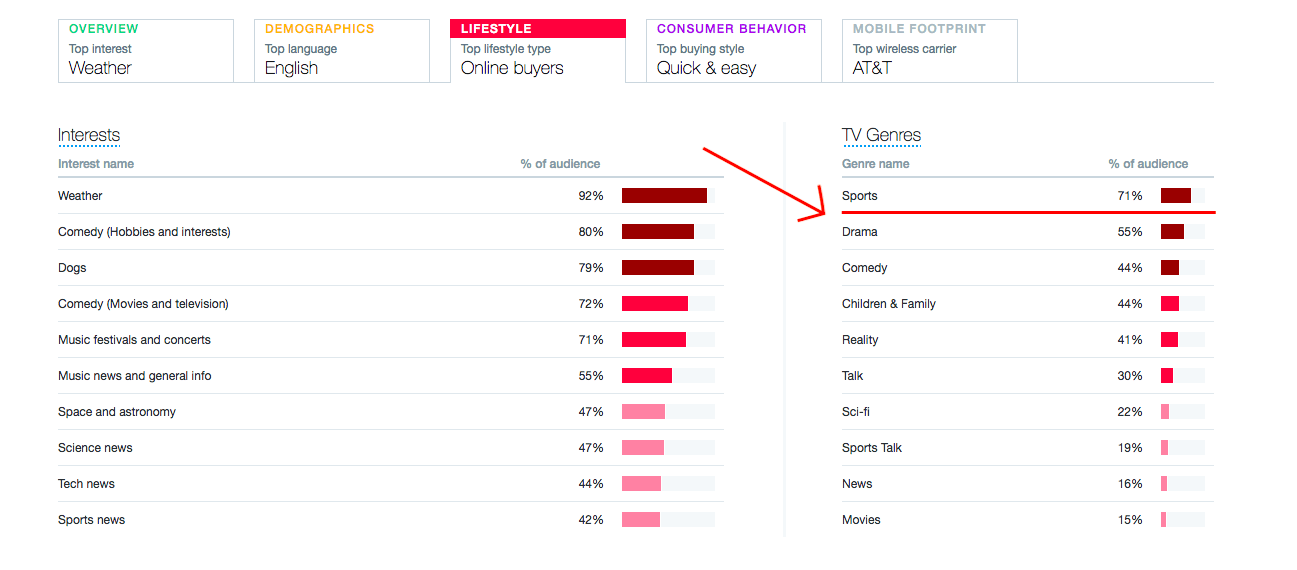 Here you can find videos published from studio.twitter.com or ads.twitter.com.
Use this dashboard to uncover Twitter data on upcoming events and recurring trends. It can help you plan out your tweets and create finely tuned tweets that precisely connect to what's happening.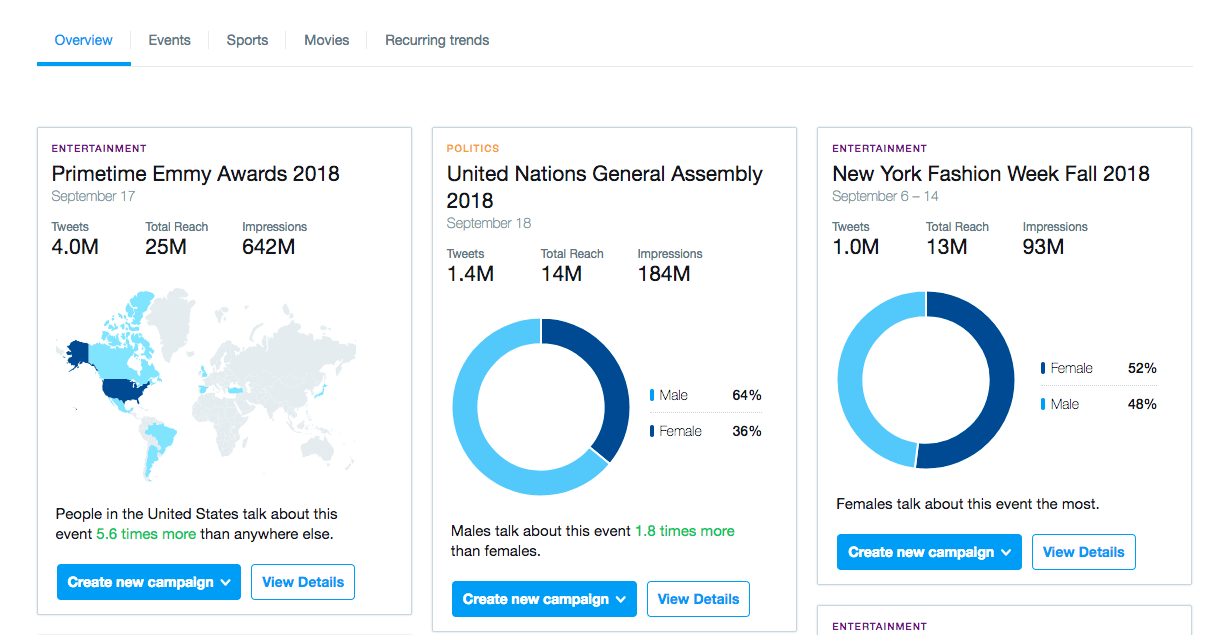 Tools
Ads Editor
The Twitter Ads editor is a tool for managing and optimizing campaigns in bulk. You are able to download campaigns into an Excel spreadsheet where you can edit or create new campaigns, then re-upload the spreadsheet into the tool and apply the changes.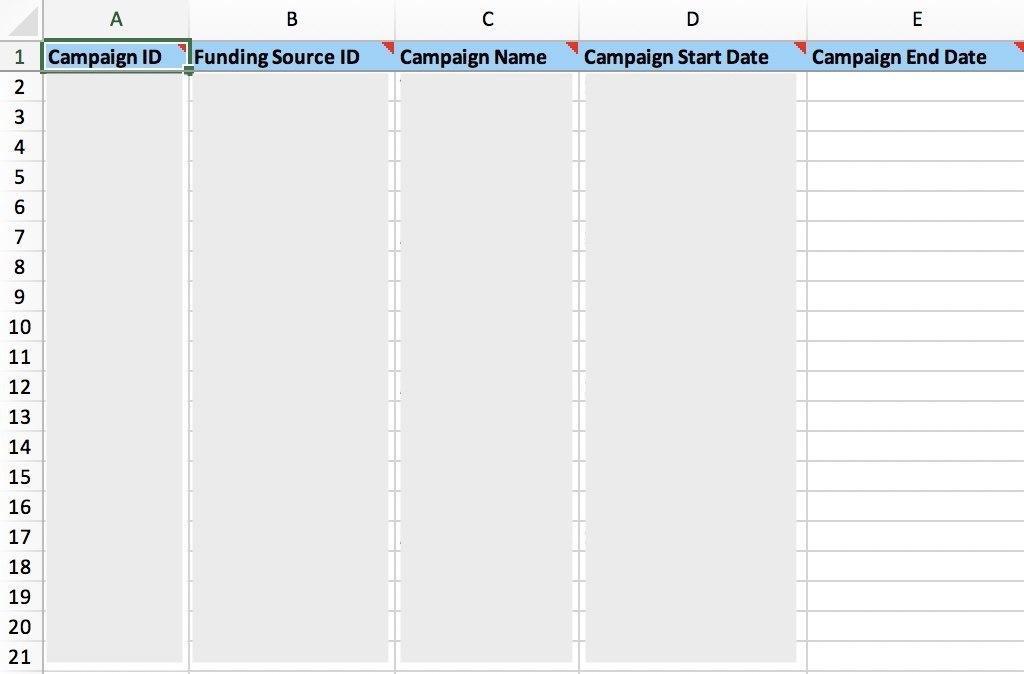 Conversion tracking
Conversion tracking enables you to measure the number of Twitter users that perform a desired action after viewing and engaging with your ads on Twitter. It will provide you with the capability to measure which of your campaigns drive actions such as site visits, sign ups, and purchases.
Use Website Tag for tracking.
Website Tag for Twitter is the same tool as Pixel is for Facebook. If people click on the link, retweet, like or simply see the Tweet and then go to your site — you'll know where they came from with help of Website Tag.
Tag every page where a conversion could take place as you can only gather data and audience members from pages you've tagged. The data will be organized by conversion type (purchase, custom, etc.) and you can download it all as a .csv.
The Twitter website tag can be generated in 2 ways:
universal website tag: a single code snippet that can be placed across your entire website in order to track multiple site actions or conversions;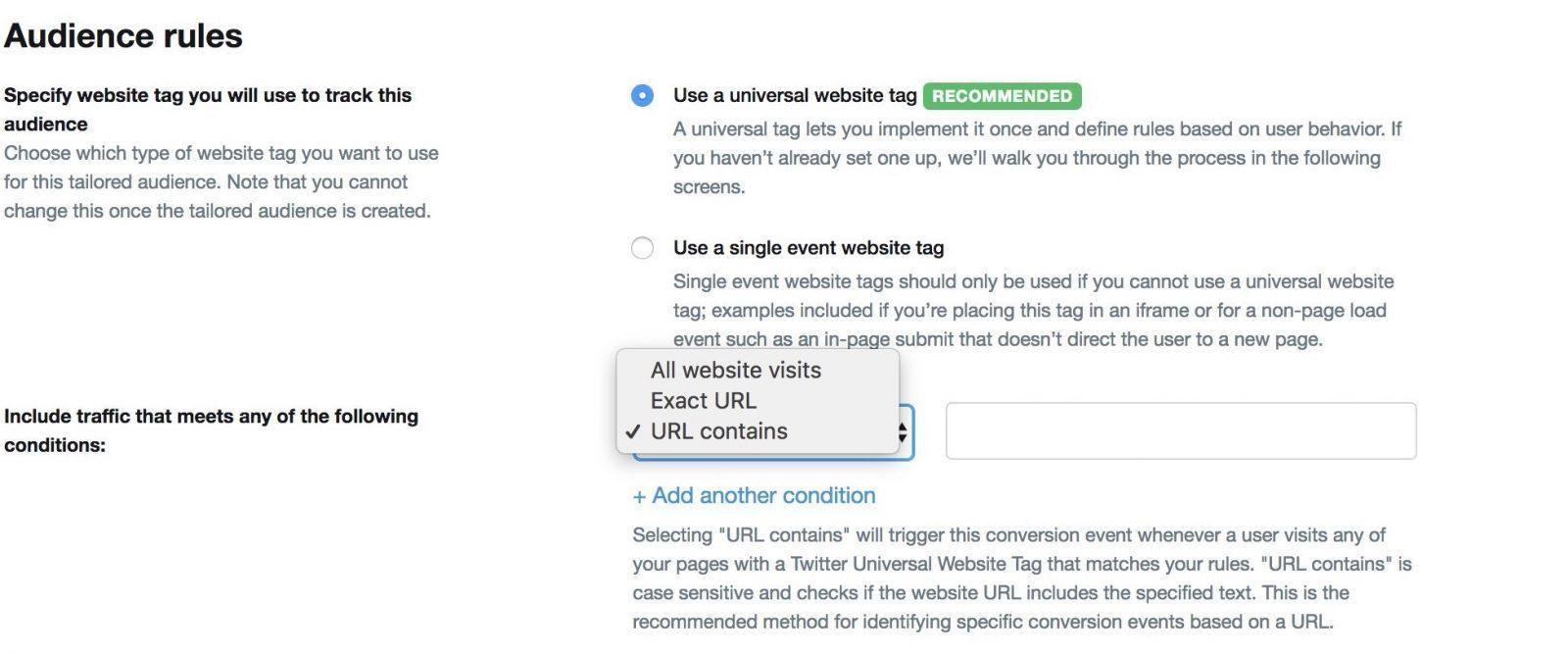 single-event website tag: a unique code snippet that can be used to track a single website conversion on your website.

Twitter recommends using the Universal Website Tag. In rare cases, you may need a Single Event Tag to track a conversion for a non-page loading event (e.g. submit registration form).
Setting up tracking
When you log into Twitter Ads, select the "Tools" drop down, then click "Conversion tracking."
Click "Create new website tag."
Give your website tag a descriptive name and select the conversion type you're looking to track (site visit, purchase, download, etc).
Checking the "Create a tailored audience" box means users who respond to your content will be recorded as an "audience" along with other users who have a Twitter account and visit your page.
The "Show conversion settings" drop-down allows you to alter the time frame in which a conversion can take place and be reflected in our data. The default is set to 30 days, which Twitter recommends.
Click "Save tag and generate code snippet".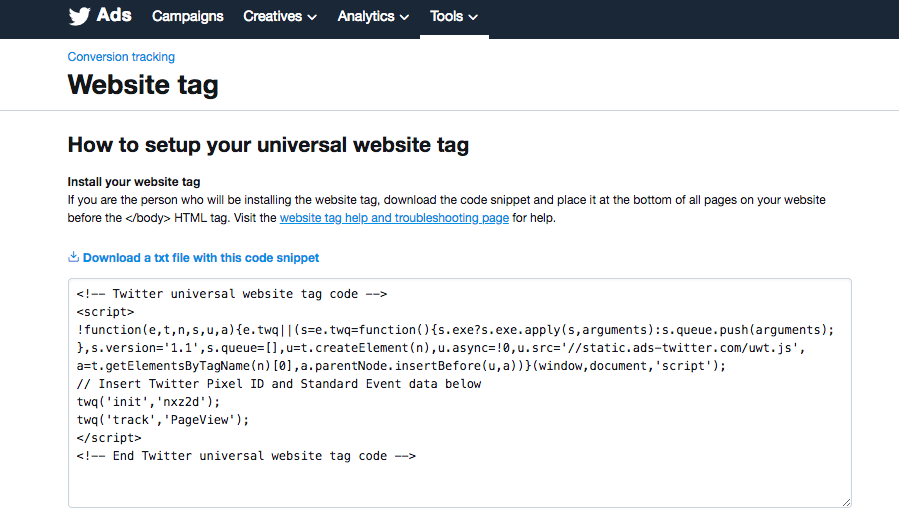 After you generate the code snippet for your website tag, you need to put the code snippet on the page you are going to track. The code snippet should be pasted just before the closing HTML </body> tag of your web page, or inside a container tag, or tag management system.
Whenever somebody lands on your site from a Twitter campaign, the website tag will fire and record the conversion data. You can access this data on the "Campaigns" page of your Twitter Ads dashboard by clicking the "Conversions" button in the middle of the page.
6 recommendations from Median ads
Use a manual bid to control and stabilize the result (in particular, bid max). In the process of replenishing the data, try to raise the bid, but carefully monitor the stability of the results.
Divide your budget at the ad group level. Despite the fact that this function is optional, it will help you control the redistribution of the budget within the campaign. At the campaign level, you define a budget, and at the ad level just limit the advertising costs for each combination of targeting. If you skip this step, you can get an uneven distribution of ad impressions between groups.
Actively monitor the reconfiguration of campaigns. Be sure to look at the breakdown by data and audiences in order to reduce the number of slips and not overpay for non-targeted displays of your ads.
If CPM is low, you can get a favorable cost for the result mathematically. Then splitting into different ad groups can be optional. If CPM is high, then it is worth breaking down into smaller groups to see which group gets the result at a price that is profitable for you. In other words, if the cost per result is high in one group, it should be broken down into several smaller groups for analysis and, in particular, parallel monitoring of effectiveness.
Monitor creatives. Compared to Facebook ads, where all the efficiency goes to the two most effective creatives, in Twitter ads, ad impressions are not all that well defined. We recommend that you disable individual creatives, evaluating the effectiveness of each.
If there are any problems with your ads, you have the opportunity to send a request to the mail. Based on our experience, Twitter support isn't the best. But as in any other network, you can't always meet a competent manager, so make several identical requests to find a representative who can effectively solve your problem.
To Sum Up
What are the advantages of advertising on Twitter?
The platform has a wide audience, which makes it possible to scale campaigns and get the necessary amount of traffic.
Large toolkit for working with advertising with extended functionality for targeting.
Despite a long search for a working advertising model on Twitter, you can get more profitable results than on Facebook. But you have to exert more effort for this, because of weak ad optimization.
In any case, it's worth testing all the necessary ad networks to determine where you can get a profitable result. If you have a well-built advertising model on Facebook and Instagram, start working with Twitter ads. Do not forget that the efficiency of the channel is determined by Unit-economy. It allows you to understand the priority of channels and identify in which of them to continue working.
If this article was useful for you, please share it on your social networks. Subscribe to our Messenger bot and Telegram channel to receive up-to-date information from us.