The most common mistakes at the start of promoting a product or service are incorrect target audience defining and avoiding its division into target groups. The creation of the customer portrait may seem like an easy task, but it can also easily mislead your strategy if you form it incorrectly. In this article, we will explain how to define and reach the target audience in the acquisition campaigns.
Getting Started
The first stage is getting acquainted with the product. Get as much data as possible from the client (insights, interests, social demography etc) and ask for a customer database. However, you have to be prepared that sometimes business owners don't have a clue who their audience is. Then, you should analyze data from past campaigns. In case of an absence of information, create your own hypotheses, taking into account the specifics of the business and the brief filled by the client.
It doesn't matter what product you promote. Understanding audiences and their behavior is the key to creating a persona. For example, parents are the same persona for an online children's goods store and children's entertainment center.
What is a persona?
A buyer persona is a detailed profile of your ideal customer which includes specific details about them.
We are all individuals, who were born somewhere and worked somewhere. We have dreams and wishes. All these factors shape our personality. Based on this information and shopping preferences, you can create a persona — a description of a typical user of a particular product.
Tools for creating a persona
Depending on business' specifics, there may be several personas. Before starting work in the Facebook Ads Manager, we describe up to 20 characteristics, starting from rational ones, such as age and geography, ending with more abstract ones, such as personality types or life motivation.

For example, our client is an advertising agency whose target audience is representatives of B2B business. We will identify 3 target groups such as marketers, PR-specialists and small business owners and describe all the characteristics for each persona.

As a result, we will get 3 completely different personas. Next, we will work on forming 3 completely different communications for them.
Persona description should be based solely on real users' data. The client should fill the aforementioned characteristics in order to get more accurate data because they know their business from the inside. If they don't fully understand who their target audience is, fill in the table by yourself using guesswork and hypotheses.
Example of a buyer persona using Xtensio.com's template
Using personas helps get away from the abstract approach and allows you to give a detailed portrait of the customer. Creating a persona is an important task for building the foundation of an entire communication strategy. If you identify a persona erroneously, you'll set up targeting incorrectly. Additionally, you will broadcast the wrong message to your audience which will affect all advertising metrics including the Relevance Score.
As additional tools for creating the correct persona, you can use such tools as:
Facebook Insights
Google Consumer Surveys
There are also 2 approaches that will help you understand your target audience needs.
Jobs-to-be-done (JBTD)
Everyone is familiar with the formulation such as "women/men aged 25 to 45, with above-average income". This information isn't enough to understand how these people make purchasing decisions and "for what kind of job they hire your product."
When we buy a product, we 'hire' it to get a job done. For example, mobile games are designed to help kill time in a queue. Jobs-to-be-done is a technique for observing your products and solutions in terms of the jobs consumers try to get done. The main task is the formation of a user story. Using this approach, you don't focus on the user's problems only, but also take into account their wishes, dreams, needs which you can also use as insights in your communication strategy.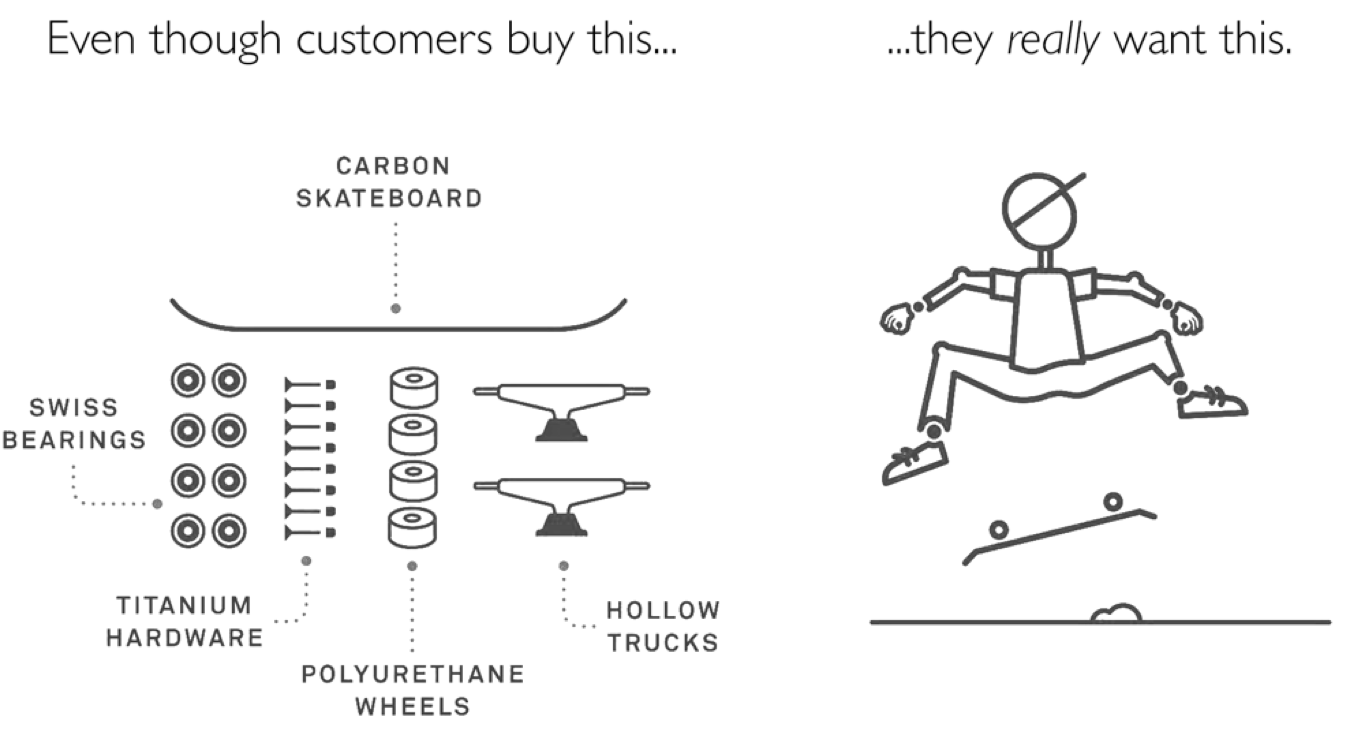 Customer Development
Customer Development is another effective method which is based on testing a future product prototype for potential consumers.
Periodically, entrepreneurs forget that a product or a service isn't created for themselves, but for other people. Have you heard of Ping? If you haven't, it's not strange really. This is an Apple social network that failed. In September 2010, Steve Jobs launched iTunes Ping which had many limitations. For example, it was possible to listen only to the first 90 seconds of the song. People stopped using Ping because they simply didn't need such social network. The network worked until 2012 before Apple closed the project.
Personas are already identified. Now, we analyze all tools which are used for advertising campaigns setup.
Saved audiences
If advertising campaigns for targeting the same audience are launched very often, all the settings shouldn't be re-entered every time. Facebook has an option to save them.
Let's go back to our 3 created personas which are marketers, PR-specialists and small business owners.
In detailed targeting, we set up an audience of PR-specialists using Job Titles. Marketers audience is set up using Job Titles and attended events. Small business owners audience is set up using Behaviors and Job Titles. In total, we created 5 saved audiences for 3 personas.
Lookalike audiences
Saved audiences are created. It's time to come back to data.
Lookalike (LAL) audience is an effective targeting tool that works based on the source audience.
For instance, if you create a lookalike audience using your page's followers, they will be considered as the source audience. Although, you need to be careful. Anyone can subscribe to the page, not only your target audience. There's no point in looking for such people.
It is important to use lookalike audiences because they provide an opportunity to rely on the already existing customer's databases which include a real portrait of a user who is already familiar with the product or service.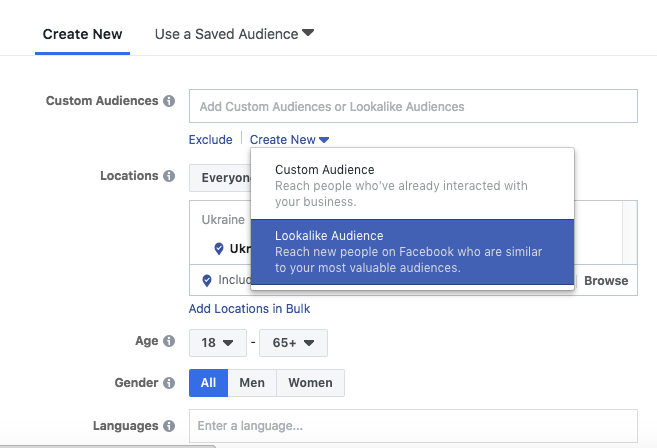 It's very important to work with audiences that can bring value for business:
people who have already paid for the product;
people who left contacts (email, phone number).
If a client doesn't have a database or leads, we don't start working with lookalike audiences. First of all, we launch an ad campaign for collecting data. Only after we have a minimum number of new clients or leads, it's possible to proceed with creating lookalike audiences.
If a client provides databases, it's important to analyze them carefully.
If you have amounts spent by customers, you can select the top 20% of consumers who brought the biggest value to the business and create a separate lookalike audience from them. This will help reach a more solvent audience.
Create several lookalike audiences to compare which interacts with your ads actively.
On average, we create 3 LAL that are similar to the source audience:
An 0-1% audience isn't necessarily the most effective one. Facebook optimization algorithm of ad delivery adjusts the work of all audiences. Even an 2-3% audience can show the best results.
In this case, we turn off other audiences that have been separated in different ad sets.
At the expansion stage of 2–3% audience, we will add 0–1% and 1–2% audience to it for more efficient optimization work. Test different steps in different ad sets and then expand them into the most effective sets.
Facebook also provides an opportunity to create a custom audience based on lifetime value.
Check the guide how to do it in Facebook Help Center.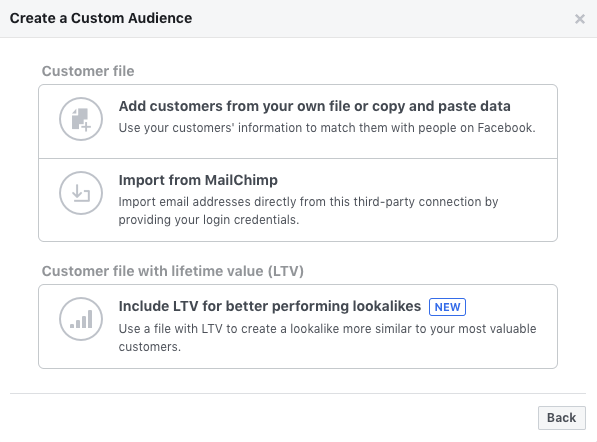 To use Custom Audiences, you must be either an advertiser, an agency or data provider acting on an advertiser's behalf, or an Ads API or Custom Audiences API partner.
Moreover, it has become impossible to work with custom audiences using your personal account. Now, you need to create a Business Manager to work with them.
Distribution of budget between audiences
The budget should be distributed between personas and audiences evenly. It is very important that there is no overlap in audiences.
When setting up targeting for different countries, create separate ad sets for each lookalike audience if the budget is enough or results have to be uniform across all countries.
During testing, it is important to analyze the cost per result. Ad sets with a high price should be turned off and their budget should be transferred to effective sets. You will be able to expand your chosen audience or adjust your daily budget during active ad campaign.
Communication
As we've already mentioned, it's important to create separate communication strategies for each persona and lookalike audience. Our Creative Matrix tool helps us generate 6 insights for each of them.
While creating insights, you don't need to focus only on user's problems. Pay attention to their wishes, highlight their needs, and analyze their capabilities. Then, write a message for each insight.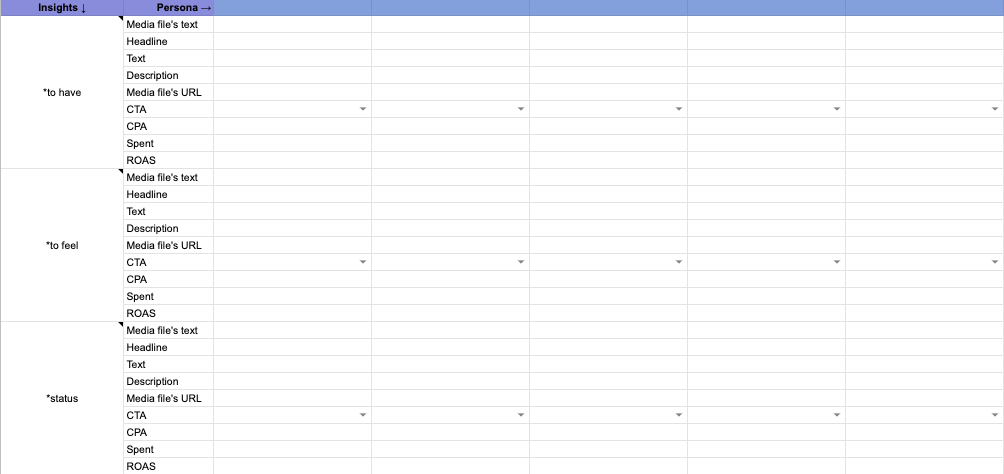 Let's have a look at the formation of communication based on the example of personas for an advertising agency. We divide 5 saved audiences into 5 separate advertising groups. In each of them, communication will be different depending on the persona.
Additionally, we create 3 separate ad sets for each of the lookalike audiences. However, note that at the moment, there is no possibility to analyze which persona prevails in audiences. Therefore, we create an additional way of communication which is based on the product's features and benefits. The above described JTBD approach will help you with it.
Once the communication strategy is ready, we move on to testing creatives.
We scale those that show the result and create similar ones. We recommend using dynamic creatives with the help of which you can try all possible combinations of banners and texts.
To sum up
There are many different ways to find out how your customers live. When you find out their needs and problems, you will be able to create a persona correctly and then determine the relevant content for your target audience. For example, the simple communication will be enough for your core audience whereas for less interested users, you will look for a special way of communication.
Remember that one sale or one achieved goal aren't enough. Proceed with communication testing and it will lead to systematic results with low costs.
In order to receive all the valuable information about social media advertising first, subscribe to our Messenger chatbot and Telegram channel.